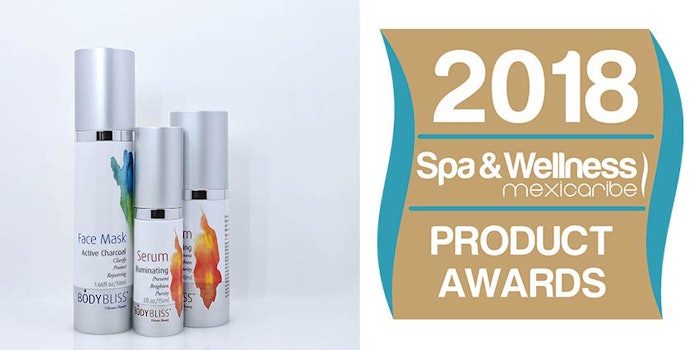 Body Bliss was honored with two Spa & Wellness Mexi-Caribe Product Awards for its facial line Vibrant Beauty.
The company's Active Charcoal Face Mask took home Best Deep Cleansing Mask, while its Illuminating Serum received Best Brightening Serum.
Vibrant Beauty brings together Body Bliss' botanicals—such as Prickly Pear, Pomegranate and Sea Buckthorn—with cosmetic ingredients like niacinamide, DMAE, teprenone, argireline and Collageneer. Launched in fall 2018, the line was developed to satisfy the growing environmentally conscious market, and consists of 14 products including cleansers, tonics, serums, creams, oils and masks.
"The Body Bliss team is thrilled that Vibrant Beauty was recognized with these awards. This facial line is the first initiative we have launched since I took the helm in 2016," said Body Bliss CEO Pam Sculthrop. "Our clients have been asking for skin care products for years. Vibrant Beauty balances the best in science with the most carefully-curated botanical ingredients. The products not only make you look and feel good but are also good for you."
Spa & Wellness MexiCaribe is a resource for spa industry professionals and wellness practitioners in Mexico, the Caribbean and Latin America. Its Product Awards showcase editor's picks for favorites in 40 face and body categories. Body Bliss took home its first Product Award in 2014, when its Aroma Design Bar and International Aromatherapy App was recognized as Most Innovative Product.