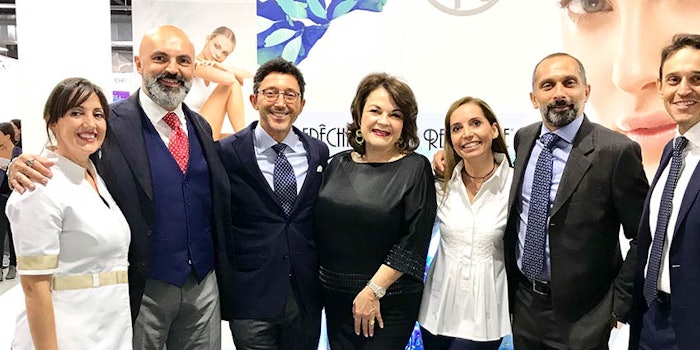 Repêchage CEO and founder and chairman of CIDESCO Section USA Lydia Sarfati, and Repêchage distributor Euracom hosted the How to Be Successful in Professional Skin Care Conference at Esthetiworld by Cosmoprof Worldwide Bologna.
Held in Milan, Italy, more than 150 Italian beauty professionals attended the event, which also included a two-day master class. Sarfati presented industry growth drivers, noting the growing popularity of face masks. Within the category sheet masks are a top growth driver, estimated to be worth $551.3 million by 2026. This growth inspired Sarfati's express facials.
Along with Sarfati, guest speakers included Angela Noviello, Italian director and national coordinator for OTI Oncology Esthetics, who discussed the emerging field of oncology esthetics; and Tommaso Cernuschi, business management specialist/founder and CEO of Image and Beauty who, with Alberto Montecroci, marketing expert/founder and CEO of Parrucchierando srl and Socialando srl, discussed business management tips and the ways spa professionals can use social media and web marketing to drive business.
Additionally, Esthetiworld awarded the Repêchage Red-Out Facial  with Seaweed Extract and Silver for Sensitive Skin with the 2018 EsthetiAward for best treatment for sensitive skin.
The conference was followed by a two-day master class and hands-on workshop led by Sarfati and Noviello, during which Sarfati presented the Repêchage Glow and Go facial mask and massage menu of treatments. Noviello demonstrated a new treatment created for oncology esthetics which utilizes Repêchage's Lamina Lift Hydrading Seaweed Mask with a customized massage to create a soothing and cooling facial treatment for cancer patients.
Related: Flash Forward: The Future of Professional Skin Care with Repêchage