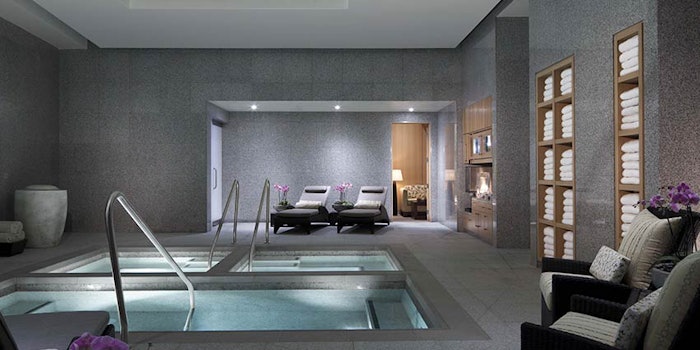 Luxury Swiss skin care brand Valmont is bringing its range to The Spa at Aria in Las Vegas.
Along with the brand's signature skin care products and treatments, guests will be able to experience its special Elixir des Glaciers  anti-aging range.
Additionally, to celebrate the partnership, Valmont has created an exclusive treatment for the spa: the deeply hydrating Majestic Canyon Collagen facial, featuring the brand's native cellular collagen and coming in at $1,000 for 100 minutes.
More targeted facial treatments, such as the energizing Vitality of Glaciers facial and moisturizing Hydration Ritual facial, are in the works.
"We are extremely happy that Valmont was selected to partner with Aria, such an iconic hotel on the Las Vegas strip," said Cedric Roget, CEO, CVL Cosmetics North America. "This is a major milestone for our development in Las Vegas and we are honored to provide our luxurious treatments and products to the distinguished guests of Aria. We share common values, and see our mission as a search for excellence and to deliver the utmost service at all levels."
Located in in the Aria Resort & Casino, The Spa at Aria is one of the largest spas on the Las Vegas strip, covering 80,000 square feet over two floors. It includes 62 treatment rooms, Ganbanyoku heated stone beds, a Shio salt room, an outdoor therapy pool, wet areas and a state-of-the art fitness center.