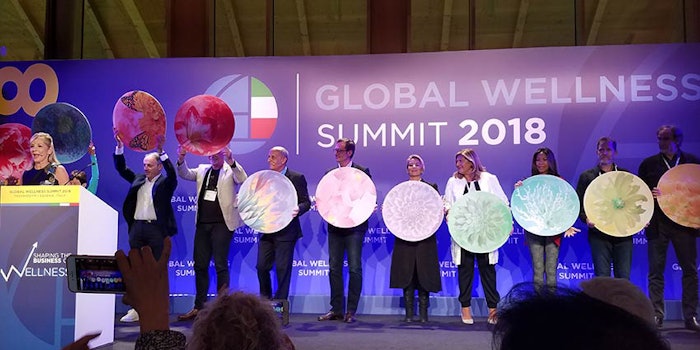 The global wellness industry grew 12.8% in the last two years—from $3.7 trillion market in 2015 to $4.2 trillion in 2017—per the 2018 Global Wellness Economy Monitor.
From 2015-2017, the wellness economy grew 6.4% annually—nearly twice as fast as global economic growth (3.6%). The wellness industry now represents 5.3% of global economic output.
Released by the Global Wellness Institute (GWI) during its Global Wellness Summit (GWS), the report features data on 10 markets that comprise the global wellness economy. Sectors (and their average annual growth rate) include:  
Personal care, beauty and anti-aging, 4.1%
Healthy eating, nutrition and weight loss, 4.1%
Wellness tourism, 6.5%
Fitness and Mind-body, 4.8%
Preventative and personalized medicine and public health, 3.7%
Traditional and complementary medicine, **
Wellness Real Estate, 6.4%
Spa Economy (Spa Facilities), 9.8% (9.9%)  
Thermal/Mineral Springs, 4.9%
Workplace Wellness, 4.8%
"Once upon a time, our contact with wellness was occasional: we went to the gym or got a massage. But this is changing fast: a wellness mindset is starting to permeate the global consumer consciousness, affecting people's daily decision-making – whether food purchases, a focus on mental wellness and reducing stress, incorporating movement into daily life, environmental consciousness, or their yearning for connection and happiness," noted Katherine Johnston, senior research fellow, GWI. "Wellness, for more people, is evolving from rarely to daily, from episodic to essential, from a luxury to a dominant lifestyle value. And that profound shift is driving powerful growth."
Highlights of the report include:
Wellness real estate—real estate that incorporates intentional wellness elements into its design, materials, amenities and programming—grows rapidly as more people want the spaces they spend most of their time to be healthier. There are now more than 740 wellness real estate and community developments built, or in development, across 34 countries.
Workplace wellness (valued at $47.5 billion) remains small, with only 9.8% of world employees covered by a workplace wellness program; the programs are heavily concentrated in high-income countries in North America, Western Europe and Asia.
Wellness tourism, at $639 billion, grew at a rate of 6.5% from 2015-2017—more than double the rate for tourism overall (3.2%). World travelers made 830 million wellness trips in 2017, 139 million more than 2015, accounting for 17% of total tourism expenditures. Asia is the number one gainer in both wellness tourism trips and revenues, with China and India ranking first and second, respectively, for growth worldwide.
The spa economy has grown to a $118.8 billion market, with locations jumping from 121,595 in 2015 to over 149,000 in 2017. From 2015-2017, the hotel/resort spa category added the largest number of spas and revenue, surpassing day salon/spas as the industry's revenue leader.
The thermal/mineral springs market grew from $51 billion in 2015 to $56.2 billion in 2017, driven by an increased demand for water as stress relief, healing and community.
"In the face of longer lifespans, and rising chronic disease, stress and unhappiness, we only see growth for wellness ahead," said Ophelia Yeung, senior research fellow, GWI. "But the wellness market isn't just growing, it's extremely dynamic. We believe that the three sectors that represent the core spheres of life will see the strongest future growth – wellness real estate, workplace wellness and wellness tourism – while other sectors will also grow as they support the integration of wellness into all aspects of daily life. And wellness markets will become less siloed and more interconnected, converging to offer solutions and experiences in the places where people live, work and travel."
Related: Researchers Present Algorithmic Beauty Trend at Global Wellness Summit