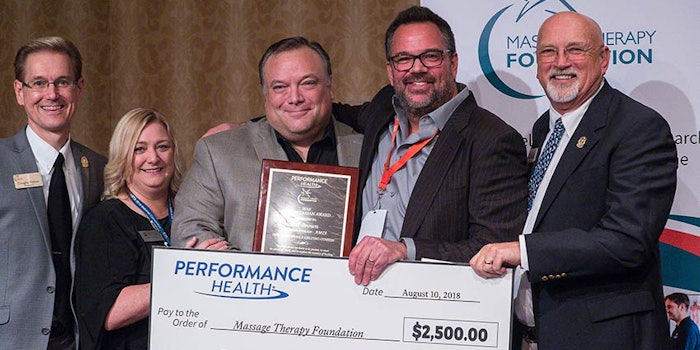 The 2018 Performance Health/Massage Therapy Foundation Humanitarian Award was presented to Bill Brown, executive director of the American Massage Therapy Association (AMTA).
The award was bestowed at the AMTA National Convention, held in Washington, D.C.
Brown joined the AMTA in 2005, and was named executive director in 2013. Under his leadership, the organization has experienced 50% membership growth. Before joining AMTA, he worked in industry relations at the National Council of Architectural Registration Boards, as director of government and regulatory affairs for the Interior Design Association, and director of state government affairs for the Illinois Department of Financial and Professional Regulation.
Performance Health made a $2,500 donation to the Massage Therapy Foundation in Brown's honor.
"The mission of Performance Health is to help people feel good, perform better and live great, and Bill is committed to doing just that," said Craig Hall, director of sales, massage & spa, Performance Health. "Bill has dedicated his life to helping others through the healing power of massage. He's a true champion for our profession and has been a tremendous supporter of the MTF both personally and professionally. Thank you, Bill!"
AMTA president Joan Nichols commented: "We are delighted that the Foundation has recognized Bill for his wonderful contributions to the massage therapy profession. AMTA is very lucky to have him as our executive director."