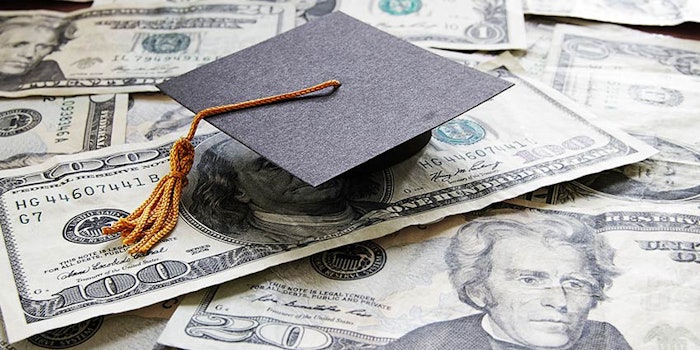 For the nearly 1,200 students who applied for scholarships from Ortho Dermatologic's 2018 Aspire Higher program, visits to the dermatologist are more than just an excuse to miss fourth period—they've served as life-altering experiences.
Honorees were selected from nearly 1,200 applications, partially based on essays sharing their experience of living with a dermatologic condition and the role a dermatologist, physician assistant or nurse practitioner has played in helping to treat it. Applications were judged by an independent panel of dermatologists across the country.
The nine students will each receive scholarships of $10,000 to pursue graduate or undergraduate degrees at an accredited nonprofit, two- or four-year college, university or advanced vocational or technical school.
Since 2013, the awards have granted more than $450,000 in scholarships to students impacted by dermatologic conditions.
This year's winners are:
The 2018 Aspire Higher recipients include:
Undergraduate Scholar Award
Jayla Chanel Davis, Alabaster, AL – University of South Alabama
Daisy Pena, San Jose, CA – California State University Long Beach
Mary Margaret Jordan, Melissa, TX – Baylor University
Graduate Scholar Award
Zoe Smith, Ferndale, MI – Wayne State School of Medicine
Niki Vora, Buena Park, CA – UC Berkeley - UCSF Joint Medical Program
Caitlin Parker, Taylorsville, UT – Roseman University of Health Sciences - College of Dental Medicine
Today's Woman Scholar Award
Laura Lukens, Evanston, IL – Northwestern University - Kellogg School of Management
Elizabeth Hendrix, Holladay, UT – University of Utah
Jennifer Hurley, Hammonton, NJ – Fairleigh Dickinson University
"In the six years that I have served on the judging panel for the Aspire Higher program, I continue to be inspired by these students' dedication to education and passion to excel in their future careers," said Jonathan S. Weiss, M.D., dermatologist at Gwinnett Dermatology in Snellville, Ga. "This is one of the most outstanding initiatives taking place in the dermatology community, and I am proud to join Ortho Dermatologics to help these outstanding students achieve their educational dreams and continue aspiring higher."