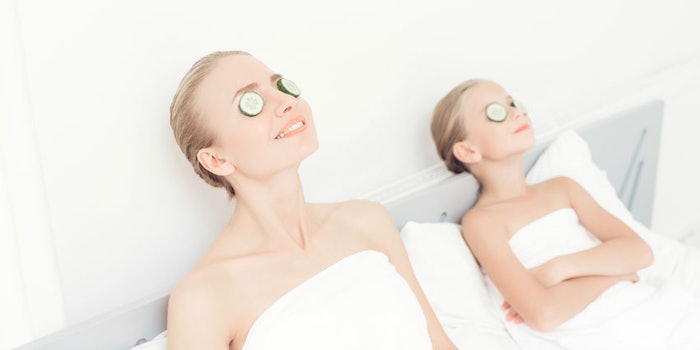 Oftentimes, parents really need a spa day, but can never find the time to go. Spa Lé La, located in Los Angeles, CA, found a unique way to provide soon-to-be, new and seasoned parents with a way to get their spa visit in without having to worry about leaving their children behind. Skin Inc. asked Trina Renea, co-founder of Spa Lé La, where the inspiration for including free child care in their spa came from, and how it has helped their new and budding business.
Skin Inc. (SI): What inspired you to include free child care in your spa?
Trina Renea (TR): My daughter Ella inspired this offering. When she was born, I was praying for a place where I could go and take a nap or a bath while someone watched her for a half an hour. So, I created it. It didn't exist anywhere in the world, and now we are opening five locations.
SI: How Long has Spa Lé La been open? 
TR: We have been open for 18 months.
SI: How does the free child care system in your spa work? 
TR: We have CPR certified and Trustline Certified Nannies. We have a no-screen policy, so the nannies fully engage in play with the children. We do kids classes throughout the week as well.
SI: What kind of treatments do you offer at your spa? 
TR: We offer facials, massage, manicures, pedicures, infrared sauna, massage throne, bath and nap treatments. We also have a full pregnancy menu and postpartum menu.
SI: Do you gear your treatments specifically toward parents, and if so how? 
TR: We are a spa that has about 50% people without kids and 50% with kids. We cater to parents by offering a very specialized pregnancy menu and postpartum menu. Our spa and our services were created with a tired parent in mind, so the entire concept was designed around parents with children. We include complimentary childcare so parents can self care to be the best parents they can be. 
SI: Is your spa specifically just for the working parent or do you have all different clientele? 
TR: We have all different kinds of clientele, and, as mentioned above, about half of our clients have no children at all.
SI: What is the mission for Spa Lé La? 
TR: Our mission is: 
Giving parents our best, so they can be their best.
Supporting a parents need for self-care with spa services and complimentary childcare.
Making self care relaxing and guilt-free so parents can be their best.
SI: What do you believe sets Spa Lé La apart? 
TR: We are unique because we offer on-site childcare. We are a spa dedicated to parents in need of self care.