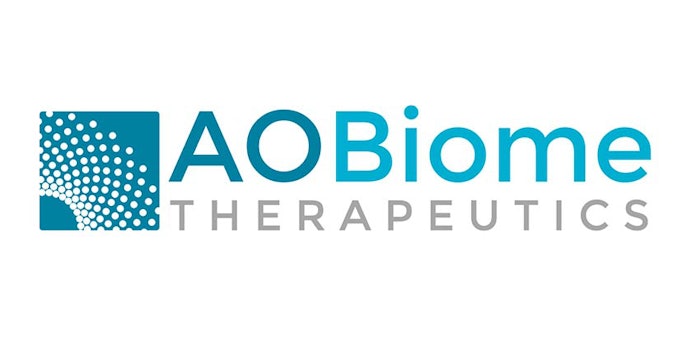 AOBiome Therapeutics, Inc. (AOBiome), has announced the expansion of its board of directors.
AOBiome is a microbiome  company focused on researching and developing therapeutics for inflammatory conditions, central nervous system disorders and other systemic diseases.
The appointments include:
Klaus Dugi, executive vice president and chief medical officer of Ferring Pharmaceuticals—Dugi brings more than 25 years of experience to the board, largely in the field of medicine. He joined Ferring Pharmaceuticals in 2017, where his responsibilities include medical affairs, pharmacovigilance and quality assurance. From 2006-2017, he held various positions at pharmaceutical company Boehringer Ingelheim.
Anna Lisa Jenkins, MBBS, FCRP—Jenkins currently serves as CEO of PlaqueTec. Prior to this role, she served as CEO of gene therapy company Dimensions Therapeutics; executive vice president, global development and medical, and then head of global research and development, at Merck Serono; and held several roles at Bristol-Myers Squibb. She will also lead the remuneration committee.
Doug Rosefsky—Rosefsky, partner at French private equity management fund Prudentia Capital S.A.S., brings nearly 25 years of experience in finance, accounting and c-level management to the role. From 1999-2015, he served as managing director and European executive committee member of Alvarez & Marsal. Additionally, he will lead the audit committee.
"We are very excited to announce the additions of Klaus, Anna Lisa and Doug to the AOBiome Board of Directors," said Todd Krueger, president and CEO. "These industry veterans bring to AOBiome a broad range of expertise in clinical development, medicine, finance and business management experience. We look forward to benefiting from their strategic insights that will be invaluable to the future direction of the company."
Added Jun Wang, chairman of the board: "It is an honor to bring these seasoned veterans to AOBiome at this important time in the Company's expansion. With the company rapidly accelerating its innovative ammonia oxidizing bacteria platform across multiple applications, we are that much closer to achieving our long-term goals within the microbiome space."
Related: The Microbiome of Healthy Skin