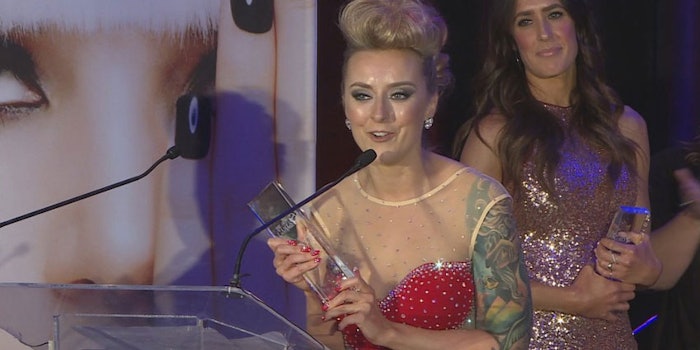 On Apr. 6, 2018, the industry's best got dressed up in their finest and gathered at the Skin Games Live Show in San Ramon, California, as they eagerly waited to see who would be crowned with esthetic and makeup achievement.
Stephanie Andresen took home the Esthetician of the Year Award, as well as many others. Other winners included Richard Maher for Holistic Esthetics, Jennifer Dover for Pigmentation, Roxanne Drese for Age Management, Brittany De Anda for new esthetician, and a number of others, as outlined below.
Below is a list of all winners of the Skin Games 2018.
Skin Care Awards
Esthetician Of The Year:
Stephanie Andresen  
Acne/Problematic Skin
Fifth: Morgan Schimmel
Fourth: Shawna Rocha
Third: Nikki Shannon
Second: Nandika Singh
First: Stephanie Andresen  
New Esthetician
Third: Katii Snyder
Second: Shelby Christiansen
First: Brittany De Anda  
Age Management
Fifth: Kamila Koziara
Fourth: Michele Bacuros
Third: Chelsea Ausland
Second: Stephanie Andresen
First: Roxanne Drese  
Pigmentation 
Fifth: Melissa Poley
Fourth: Chelsea Ausland
Third: Stephanie Andresen
Second: Kristina Chilton
First: Jennifer Dover
Open - Medical
Third: Holly Tanella
Second: Ann Sophie Vanwijnsberghe
First: Jo Ann Diaz  
Holistic
Third: Linda Bertaut
Second: Holly Tanella
First: Richard Maher
Student
Third: Merrissa Trujillo
Second: Jennifer Romano
First: Vanessa Rowlett  
Makeup Awards
Corrective 
Third: Nathan Rickel
Second: Tamiko Carillo
First: Eleni Lembesis
Bridal 
Third: Serina Martinez
Second: Isabel Juarez
First: Kripa Bhatt
Avant Garde 
Third: Margaryta Schwery
Second: Stephanie Andresen
First: Tamiko Carillo
Courage In Color
Tamiko Carillo
Best of the Best
Eleni Lembesis
People's Choice Awards
Fifth: Melissa Bivelacque
Fourth: Lindsey Schaefer
Third: Kamila Koziara
Second: Shawna Rocha
First: Stephanie Andresen  
Game Change Awards
Michael Pugliese
Sheri Flasch
Susanne Schmaling
Lilian Denmead
Spirit Award
Cheryl Miller