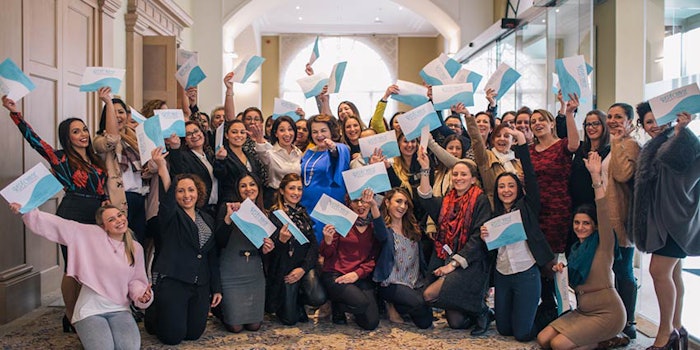 The Lydia Sarfati post-graduate skin care academy has announced a number of two- and three-day workshops throughout the year, focused on anti-aging facial treatments, a holistic approach to acne, skin care science and trends, business know-how, and Repêchage  product knowledge.
Each class will include a workshop kit, live demonstration with protocals, facial and massage workshop and Q&A. Additionally, a light breakfast and full lunch will be served each day, and participants will receive a certificate upon completion (diplôme d'honneur).
Related: Repêchage Kicks Off Educational Series With Oily Skin Webinar
Additionally Lydia Sarfati, Repêchage founder and CEO, will host three master classes: May 8-9 and Dec. 4-5, 2018. These master classes, which will be held at the Repêchage headquarters in Secaucus, NJ, will be open to all seasoned estheticians and spa and salon ownersl.
The 2018 Lydia Sarfati Post-Graduate Skin Care Academy Lineup:
6/18 – 6/20 3 Day Education with Hands-on Facial & Sliver Ball Massage Workshop – Pigmentation, Age Spots, Uneven Skin Tone and Sensitive Skin Treatment Protocols

7/23-7/27: 5 Day Master Class with Lydia Sarfati:
Day 1: The Art of Massage
*Learn various massage techniques for different skin types, including an anti-aging facial massage, sensitive skin massage, oncology massage, European massage, and massage for problem skin.
Day 2: Crafting Customized Signature Facials
*Learn how to properly analyze the skin and the modalities for each skin condition.
Day 3: Signature Treatments
*Learn proper protocols and the science behind signature Repêchage treatments, such as the Four Layer Facial®, Vita Cura® 5 Phase Firming Facial, Red-Out® Facial, and Biolight® Miracle Facial.
Day 4: Waxing and Body Treatments
*Learn how Waxing is Relaxing™ with Repêchage wax treatments and protocols, including Brazilian and bikini wax, French wax treatment, and waxing for men. Also learn about the latest treatments for anti-aging body treatments, including techniques for areas such as the legs, feet, hands, back, and décolleté.
Day 5: The Business and Science of Skin Care
*Lydia will share her knowledge behind the business of the skin care industry and strategies and goals for good business.
8/13-8/14 2 Day Education with Hands-on Waxing Workshop – Waxing Tips and Tricks to Provide the Perfect "Waxing is Relaxing!" Experience
9/24-9/25 2 Day Hands-on Anti-Aging Facials Workshop – For Brighter Younger Looking Skin
10/15-10/16 2 Day Hands-On Facial & Massage Workshop – Upgrades: How to Optimize Your Client's Time and Experience
11/12-11/13 3 Day Education with Hands-On Deep Cleansing Workshop – Don't Cross the Medical Line: A Holistic Approach to Acne with Proper Extraction Methods
12/3 Repêchage Power Lunch
12/4-12/5 2 Day Master Class with Lydia Sarfati
For more information, visit Repechage.com/pages/lydia-sarfati-academy.