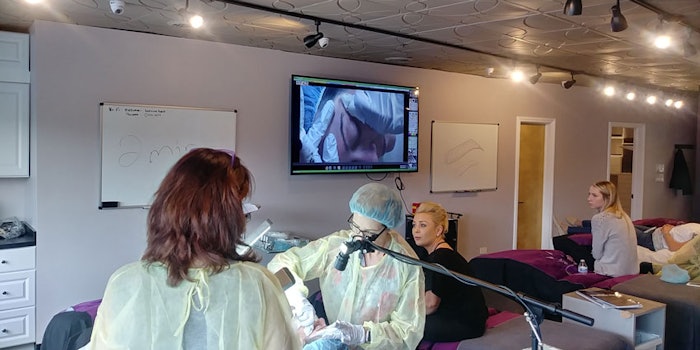 The Occhi' Institute for Lash & Brow Training has expanded its training studio, and has added software that allows it include helpful notes and tips on a lash or brow technician's recorded technique. Located in Oakbrook, Illinois, this institute drew inspiration and partnered with a sports training company to bring the EYE TEC system to their education classes.
The EYE TEC Device
Tom La Palermo, co-owner and operator of Occhi' Institute, helped create the device after the idea struck him from seeing a similar device while he was learning how to golf. He explains how groundbreaking and ideal this device is for education by explaining how, "The instructor is capable of taping a segment of the students work, editing in his or her comments on the students work and also drawing instructions and helpful hints."
These helpful hints allow the students to see their work in real time as well as save the videos to their phones. This way the students are able to revisit old videos in their phone to refresh their memory on techniques. This device could create a whole new spin on training estheticians with the opportunity for them to further their education with just their phone and fingertips.
About Occhi' Institute
Occhi' Institute was founded by siblings Tom La Palermo and Lynn La Palermo with the desire to provide  training in eyelash extensions and eyebrow artistry. Five highly trained technicians provide services to clients in eyelash extensions, brow services and microblading in these education classrooms.
In addition to being co-owner and operator of Occhi' Institute, Lynn La Palermo is also a master eyelash artist, instructor and certified master micropigmentation artist and instructor. She added, "The Institute was designed specifically for training, and we have added, what we think, is a paradigm shift in the way training can be conducted in the beauty industry."