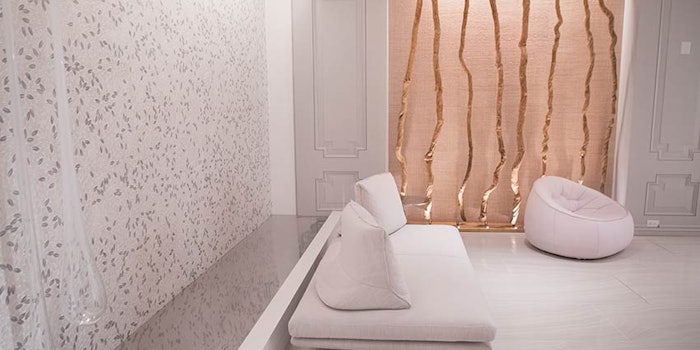 The Spa at Hotel Crescent Court, located within Hotel Crescent Court in Dallas is seeing some big changes. Namely, the 22,000 sq. ft. spa has just completed a makeover as part of the hotel's 30 million dollar overhaul.
Michelle Meredith + Associates, an interior design firm based in Dallas, led the project. The hotel describes the aesthetic as a "non-cluttered design" of "simplistic natural forms and patterns," in a lavender, grey, blue and cream color palette, featuring brass metal and gloss white accents.
Features of The Spa at Hotel Crescent Court include 16 rooms for treatments—which include massages, facials, body treatments and waxing—along with relaxation rooms, whirlpool with a hot and cold dip, a dry sauna, and a nail salon. The facilities also include a health and fitness center with equipment, flooring and lighting from TechnoGym.
"We're thrilled about the opening of The Spa at Hotel Crescent Court as it brings one-of-a-kind offerings to the hotel," said Andrew Davidson, Hotel Crescent Court's general manager. "The spa is an important cornerstone of the hotel's $30 million enhancement project, slated for completion in early Spring 2018. We are confident it will soon be the talk of the town, and we are eager for visitors, locals and club members alike to experience the sparkling new space."