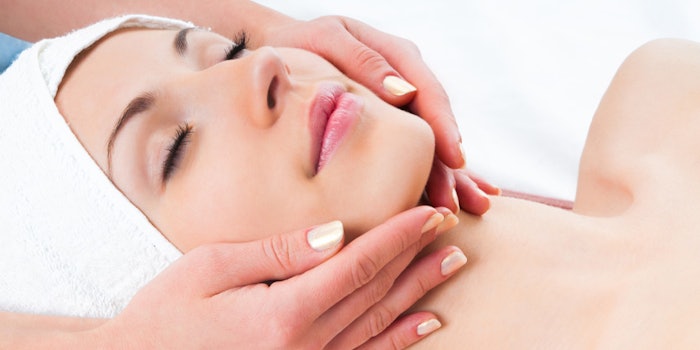 CIDESCO has announced the launch of its first signature experience treatments, available starting in April 2018. The treatments are comprised of techniques and practices from all over the world.
Designed by Anna-Cari Gund, president; Vicky Harper, board member for education; and other senior educators and examiners, the treatments were developed to be brand-neutral, which means all product lines can be utilized and will be exclusive to CIDESCO-accredited salons and spas. Gund will perform the first treatment this year at IECSC Chicago. 
"We are absolutely delighted to be launching CIDESCO's first signature treatment, which truly reflects the skills of our diploma therapists and their positioning as amongst the best in the world," said Gund. "It is very much taken from a treatment perspective rather than a brand one so it gives our members something just for them, which incorporates some of the specialist techniques and super service our members are taught as part of their CIDESCO diploma." 
Age-Defying Facial
The first treatment to launch is a 90-minute CIDESCO Age-defying Facial, which is a followed by the CIDESCO Pure Relaxation Top-to-Toe Body Experience. 
To start, the client will receive a welcome drink and a hot towel massage for immediate relaxation, followed by a double cleanse of the face, neck and décolleté.
A thorough skin analysis by a therapist will follow after the cleansing, to determine the skin condition and the client's skin needs. After exfoliating the face, hands and arms, the eye area, face, neck and décolleté will be massaged.
A firming mask will be applied and the arms and hands will be massaged to promote further relaxation. After the mask is removed, a toner is applied, followed by moisturization. Breathing techniques follow to finish this treatment, helping wake the client calmly.