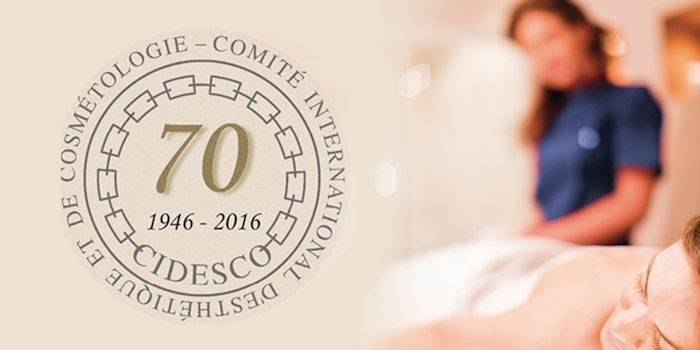 The global spa industry has reached an impressive $94 billion dollars, with a yearly growth average of nearly 8% despite recession years, according to a report by the Global Wellness Institute.1 There are many factors that have contributed to this growth, but it certainly would not have been possible without knowledgeable and talented technicians. The root of knowledgeable technicians is their education, and Anna-Cari Gund, president of CIDESCO International and managing director of Raison d'Etre has championed esthetic education for over 30 years. Skin Inc. sat down with Gund to learn about the important of education, what got her into this industry and what advice she has for skin care therapists.
Skin Inc. (SI): How did you get started in the spa industry?
Anna-Cari Gund (AG): Beauty, spa and wellness have always been my passion, starting when I studied chemistry in school and became interested in how ingredients in cosmetic products could enhance treatments. A friend introduced me to a CIDESCO education program and the rest is, as I guess one can say, history. Now I have worked in the beauty and spa industry for over almost 30 years. Time flies when you are having fun.
SI: What do you love about the spa industry?
AG: Meeting the positive and devoted people involved in this industry is extremely rewarding. I cannot think of any other profession that is more devoted and enthusiastic than "spa people." This industry is all about passion, and I always look forward to meeting colleagues at the annual events.
SI: What was one of the biggest lessons you've learned?
AG: Every professional spa or five-star hotel manager knows the importance of standards and quality. You can have a gorgeous beauty salon or spa with the latest design, products and equipment and an impressive treatment menu that builds the guest's expectations, but if you don´t have a well-trained, qualified and experienced therapists who can deliver excellent client service and an unforgettable treatment, the guest experience will be mediocre. Nowadays, the customer expects a high level of service and a certain standard. Qualified and educated therapists are vital.
SI: What advice would you give to a new spa owner/esthetician?
AG: Education is power, and it is the only way we can continue to develop and find satisfaction in our work. In the beauty and spa industry, it is even more important, where the experience of a treatment is the most important thing together with skills and expertise. Also, remember never to underestimate the need for continuous professional development. In my view, everyone needs it, and it is only in recent years the term continuous professional develoment has been around. Although it is not mandatory, it is considered important for everyone to develop and increase their skills on a regular basis. These days, most therapists have excellent basic qualifications but many things need to be learned through experience and years in practice.
SI: When and how did you get involved with CIDESCO?
AG: I did my CIDESCO Exam in 1988 and straight away got the opportunity to get actively involved in the National CIDESCO section in Sweden, where I live. After some years as an esthetician, I started teaching. The following 15 years as principal of a CIDESCO school has given me the experience to appreciate how important education is for the growing demands of the beauty and spa industry. My eight years as vice president and four years as president of CIDESCO International have given me the opportunity to influence the future of the industry.
SI: Describe the importance on ongoing education in esthetics.
AG: Education is extremely important in spa and beauty therapy, where new techniques, products and equipment mean that constant updating is essential for consistent and improving standards. The industry is rapidly changing, and therapists must invest in themselves in order to keep up to date with the latest techniques and to continue the process of lifelong learning.
SI: How can a U.S. esthetician use CIDESCO to benefit their career?
AG: An international qualification, such as CIDESCO, meets stringent international standards in many nations across the world. With an international qualification, the opportunities are so much wider for working when traveling or living overseas. International examinations are also independently assessed and moderated, which ensures the examinations are fair, valid and consistent. The opportunities for a well-qualified therapist is enormous and they´ll never know where they might be in five years, so it is best to ensure to have excellent international qualifications. This means that they have every possibility to shape their own future.
SI: What have been some game changing trends in the spa industry?
AG: A recent trend that I believe is here to stay is the on-demand services, which are a revolution in many industries, including spa and wellness. The new on-demand options provide an unprecedented level of flexibility, immediacy and convenience, and many established industry leading companies are adding on-demand services to their offerings. It will be exciting to see what impact this will have on the industry.
SI: How is the spa industry changing globally?
AG: The spa industry is more and more geared towards and a holistic wellness approach. People are looking for a new lifestyle concept and how to actively become aware of and making choices toward a healthy and fulfilling life. This is where the spa industry can offer wellness programs including fitness, treatments and nutritional guidance as part of the start of a changed lifestyle for the guest.
SI: What do you see in the future of esthetics?
AG: The future is bright, and the demand for well trained staff in the growing wellness industry is enormous. Knowledgeable therapists will increase the status of our profession and ensure that the standard is the highest possible.
REFERENCES