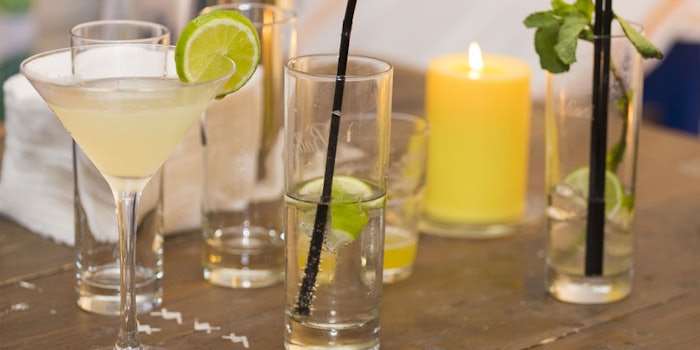 The Gin Spa opened in Glasgow, Scotland in December 2017, and as you may have guessed, the popular liquor was a big factor in its inspiration. This spa was created by the same people who launched Gin 71, a chain of gin bars in Scotland, and it is the perfect way for any gin lover to relax.
What sets The Gin Spa apart from other spas, besides that you receive a free gin and tonic with every treatment, is that it used the botanical ingredients in gin as its inspiration to create a customized line of products called JustBe Botanicals.
Gin Inspired Treatments
In addition to inspiring the formulations for JustBe, gin also inspired the different treatments that the spa offers. Each consultation will begin with a simple question, how would you like to feel? Client's can choose between happiness, active, tranquil, pure, energized or detoxed. The spa  offers a variety of treatments including different massages, facials, spa packages manicures and pedicures. 
Every treatment and spa package will include an arrival tea as well as a complimentary gin and tonic from the Fever Trolley. Massage and facial treatments also include aromatherapy chocolate to indulge in, while all spa packages include a glass of Prosecco. 
There are four different spa packages: The Botancial Bliss (60 min., 90 GBP), Just the Tonic (30 min., 55 GBP), Paint the Town (60 min., 69 GBP) and The Twilight Tasting Package (60 min., 99 GBP). The first three include an afternoon tea. The Twilight Tasting Package puts a unique spin on the typical spa package by including a 5 course gin inspired tasting menu at the Gin71 next door.
More luxury spa packages are also included in this spa each including afternoon tea, a glass of Prosecco and a gin and tonic. That's The Spirit (4 hrs., 250 GBP), Re-Gin-Venate (2 hrs., 160 GBP), Nailed It (2 hrs., 109 GBP), and Gin To Your Tonic (60 min., 175 GBP) are all about truly being pampered. Gin To Your Tonic is also unique in the sense that is is a couples spa day package. 
The Gin Spa offers four different types of massages. There is the full body massage (60 min., 70 GBP), head massage (60 min., 60 GBP), back massage (30 min., 40 GBP) and reflexology (30 min., 40 GBP). There are also two different facial options offered. The Mini Facial (30 min., 40 GBP) hydrates and nourishes the skin while including a shoulder massage, skin analysis and anti-aging facial massage. The Signature Facial (60 min., 75 GBP) is a custom-made facial that addresses specific skin concerns of the client. For this facial, a freshly mixed mask will be created, and a massage will be provided while the mask is on the skin. Finally, there are numerous manicure and pedicure options including a file and polish (30 min., 20 GBP), file and gel polish (30 min., 30 GBP), luxury manicure (60 min., 47 GBP), luxury pedicure (60 min., 47 GBP), gel manicure (60 min., 57 GBP) and gel pedicure (60 min., 57 GBP).