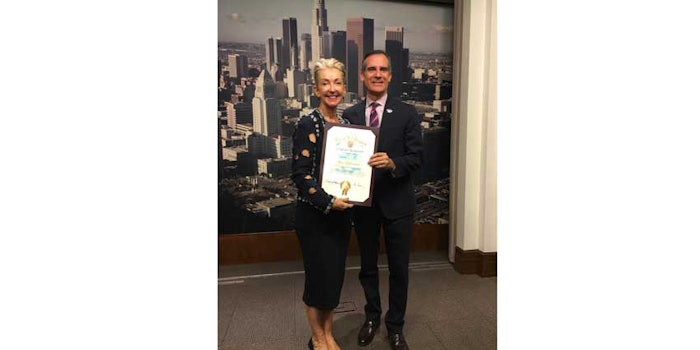 Along with Los Angeles mayor Eric Garcetti, Jane Wurwand, co-founder of Dermalogica and The International Dermal Institute post-graduate training centers, announced the launch of the Los Angeles Women Entrepreneurs Challenge.
Wurwand is providing a $30,000 grant from her organization, the Wurwand Foundation, in support of women with small businesses in Los Angeles who are looking to expand, but do not have access to proper resources. The grant is in partnership with the Los Angeles Mayor's Office and Opportunity Fund to provide direct financial support, focusing on minorities and underserved communities.
Additionally, Garcetti and councilwoman Rodriquez announced a day in Los Angeles to celebrate women entrepreneurs, which will start on Nov. 19, 2018—the same day as Women's Entrepreneurship Day—as an official way to celebrate, empower and honor women in business across the world.
The goal is to connect women entrepreneurs, job creators and innovators who launch startup companies, bring ideas to life, drive economic growth and expand human welfare.
In 2016, Wurwand was appointed as an entrepreneurial ambassador through the Presidential Ambassador for Global Entrepreneurship by former President Barack Obama. As an ambassador, Wurwand will work with the federal government to help develop the next generation of entrepreneurs at home and abroad.