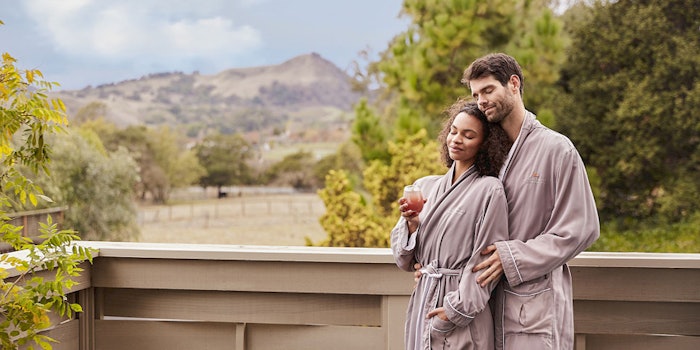 Farm to spa is a concept where spas uses the natural ingredients around them, from lavender to herbs, and add them into treatments, products and services.  
These California spas were rounded up by 7x7 for taking local, seasonal ingredients and using them in their products to give clients a fresh and unique experience. 
1. Carneros Resort and Spa
Located in Napa, California, Carneros uses ingredients found on the grounds. 
Treatments include prenatal massages with an infusion of mandarin, rose and lavender oils and deep tissue massages which include ginger, rosemary and turmeric balm. 
2. The Spa at MacArthur Place Hotel
MacArthur offers not only farm to spa but a Farm to Table Massage, where the plants and flowers from its garden appear as ingredients in its spa amenities to provide relaxation, sensory awakening and connection with nature.
The spa also offers a Seasonal Sonoma Lavender Massag,e which utilizes lavender sourced locally from Matanzas Creek Winery in Sonoma's Bennett Valley.
3. Post Ranch Inn
The Post Ranch Spa offers organic signature spa products and healing elements. 
Guests can chose from a range of massage such as the Aromatherapy Massage, where guests chose from a variety of organic essential oils and Big Sur Flower Essences, or the Lymphatic Massage, which includes its signature aromatherapy massage oil blend includes organic lemon, juniper and cedar essential oils. 
4. Farmhouse Inn
Farmhouse Inn stays true to its name with farm to spa options in all of its services. Each massage includes its Farmhouse blend of local aromatic lavender, bright bergamot, and earthy scents like patchouli, sandalwood, and vetiver. 
The Farmhouse Body Scrub includes a blend of California sea salt, organic olive oil, sweet almond, freshly cut grass, farm-fresh tomato leaves and jojoba oils. 
5. Carmel Valley Ranch
The spa menu at Carmel Valley Ranch is extensive, with services to relax and rejuvenate for everyone. 
The abundance of florals, herbs, and botanicals around the landscape of Carmel Valley Ranch is used in its services. Its natural harvest is continuously cultivated and renewed.
Carmel offers lavender centered massages such as the Sweet Lavender Poultice Massages with a warm steam-infused lavender poultice, or its Lavender Garden Swedish. For something hot, it offers Herbal Hot Rocks with warm herbal oil applied to skin and smooth, hot basalt rocks are used on knotted muscles.