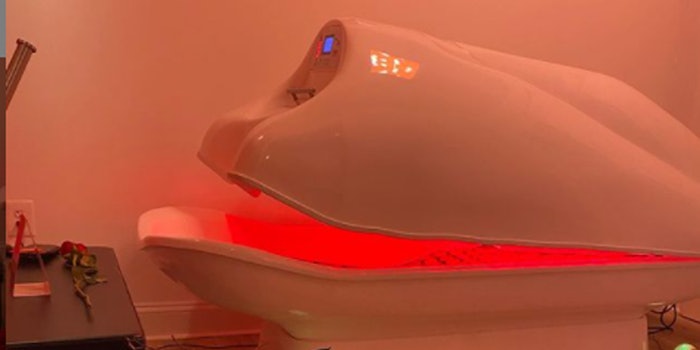 The Touch-Free Wellness Spa, located in Towson, Maryland, has opened its doors at the right time. This spa offers services that involve zero physical touch, creating a socially distanced environment. 
Related: Leah Chavie Skincare Moves to Chicago's Gold Coast
The spa offers touch-free services including:
Cryo Therapy-Full Body which reaches temperatures of -140°C / -220°F.

Infrared Sauna Pod features dual-detox and offers the full spectrum of infrared rays (near, mid, and far infrared). 

Hyrdo Massage Chair uses internal water jets that can move the length of the chair and are controlled by the user. 

Anti-Gravity Robotic Massage Chairs give a comprehensive back massage that targets the acupuncture points and is said to elongating the spine, improve posture and eliminate tension.

Lympthatic Compression Massage use an air compression suit to send air pressure up the body.

Vibroacoustic Lounge Bed uses low level harmonic frequencies in the field of sound, light, frequency and vibrations.
The spa also offers its Weight Loss/Body Tone Program. This program includes a consultation with a nutrition specialist, homeopathic supplements, a body composition analysis reports as well as three times a week guest partake in the Whole Body Vibration workouts, Lymphatic Compression Message and Infrared Sauna Pod Treatments.
This is available in 23 days or 41 days programs.