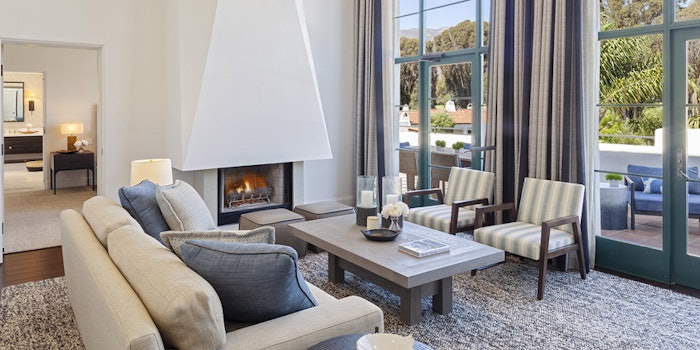 Ojai Valley Inn
Ojai Valley Inn, a luxury resort in California, has reopened its doors, following a months-long, $5 million renovation across the award-winning Spa Ojai.
Spa Ojai, the 31,000 square-foot spa, is at the epicenter of Ojai Valley Inn's renovation. Its new look spans all 24 treatment rooms, public spaces and two penthouse guest suites.
Guests will pass through a courtyard with a running fountain before entering the spa. Once indoors, visitors will find new luxury lockers, new flooring, tiling, and lighting throughout the space for a relaxing, peaceful environment. New vanity stations and additional shower space also contribute to the enhanced experience, as well as a dedicated quiet room on the women's side and a new cold plunge on the men's side.
Guests will also be able to enjoy a newly expanded serenity lounge upstairs, with soft, cozy-chic furnishings.
Spa Ojai will also reintroduce its signature Kuyam experience for individuals and small, private groups. The Kuyam is a detoxifying experience that combines therapeutic, self-applied desert clay with essential oils, intense dry heat and inhalation therapy in a sauna-like environment.

Ojai Valley Inn also announced its Spa Penthouse Suites that sit above Spa Ojai. The $2 million redesign, orchestrated by BAR Architects' director of interiors, Tim Hepworth and interior designer Alexa d'Argencé, draws inspiration from the setting of Ojai to create two havens for wellness-seeking guests looking for a relaxing and rejuvenating getaway.
The Sunset and Moonrise Penthouse Suites are each 1,500 square-foot, two-bedroom accommodations with sweeping views of the surrounding valley and private outdoor space. Both suites pay homage to the resort's location in the heart of Ojai Valley, the unofficial "Zen Capital" of Southern California.
Kate Morrison, Ojai Valley Inn's Director of Sustainability and Wellness said, "The enhancements introduced at Spa Ojai will offer our guests an inviting, seamless and private spa experience, from the moment they step foot on property. Over the course of the past year, we have been focused on making physical updates to our iconic spa to enhance the overall Spa Ojai experience with the latest in technology and design, from locker room enhancements to infrared saunas and outdoor showers."
Chris Kandziora, General Manager said, "As part of our commitment to being a premier getaway destination in California, we took time during the resort's temporary closure to completely renovate several areas of the property. We are proud to debut a new, modern luxury inspired design for Spa Ojai and the Spa Penthouse Suites. We look forward to welcoming guests back to the resort to experience the Inn's warm hospitality amidst these reimagined settings."