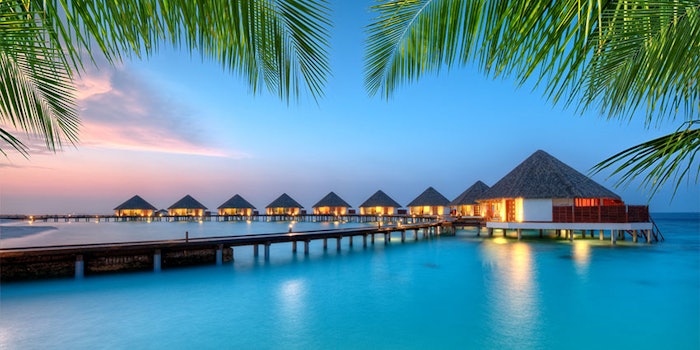 Committing to an eco-friendly practice has become an important part of operating a business. These spas and resorts around the world have begun using eco-friendly measures without compromising its luxurious amenities, per Tatler.
Related: North America's Best Hotel Spa is Located in Boston
Bawah Reserve in Indonesia, was created sustainable, taking nine years to complete but includes freestanding bungalows built from harvested bamboo and vegetables picked from the garden are used at the restaurant. The reserve also offers daily massages, soothing facials and skin-brightening scrubs.
Babylonstoren in South Africa is half a working farm and half lodging. The land is filled with resources such as dill, kale, Chenin and Chardonnay grapes, and olive trees which is used at the farm-to-fork restaurant. Spa treatments include massages using rolling lengths of bamboo and brightening QMS facials. 
Stanglwirt in Austria is flooded with numerous pools. From hot to cold, whir-pool, saltwater and a seawater tank filled with coral, which are all fed by local spring water collected in an underground reservoir. 

Kudadoo in the Maldives includes 15 over-water residences with personal butlers. The island is powered by solar energy and plastic is banned throughout. The spa includes Himalayan salt chamber and top-to-toe massages.
Nihi Sumba in Indonesia offers opportunities to reconnect with nature in the Boathouse Spa with organic facials, full-body scrubs and practitioner therapies. The resort uses remineralised seawater for drinking through a reverse osmosis system, and cocktails are sipped through papaya straws.

Golden Door in the United States is a California resort with hiking and mind-body actions available. It includes a 210-acre farm with citrus, avocado groves, numerous vegetables, five beehives, egg-laying poultry plus herbs that replenish the soil under the holistic program.
Jumeirah at Saadiyat Island in Abu Dhabi has the first Bodyism gym in the United Arab Emirates and includes trainers and over 20 classes a week from yoga to boxing. It also includes treatments from facials to massages to many others. The hotel is the first in the region to ban single-use plastics. 
Artic Bath in Sweden includes a spa, restaurant and 12 Scandi lodges which are constructed from sustainable wood and warmed by energy efficient wood-pellet burners. Wellness involves the hot-then cold Kneipp Cure, which includes wearing an eco-friendly swimsuit (provided) to the sauna and after seven minutes guests then jump into a cold plunge pool, cut from the winter's ice. The meals are also eco-friendly as ingredients are resourced locally. 
Islas Secas in Panama draws on its natural resources such as the endless sun (the resort is run on solar energy), fish-filled waters (used for dinners) and dense forests (the four casitas are built from reclaimed wood). The island is only 25% developed, the rest allows plants and animals to grow and thrive. Treatments include lymphatic drainage scrubs and guests can use island made products.