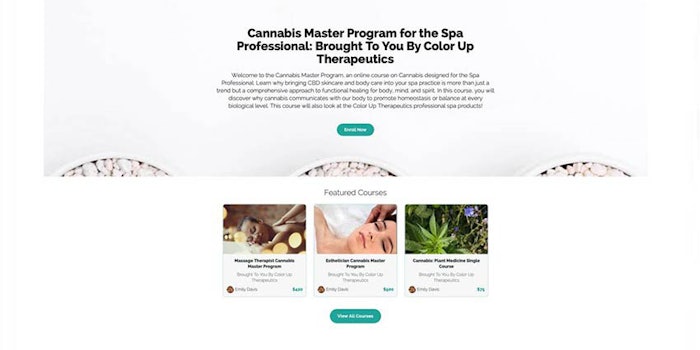 Color Up has decided to close the Color Up Wellness Center in Denver to the public, but will continue to ship products as it is protecting the Color Up CBD laboratory by allowing limited access.
The brand is also offering a free online education session on Tuesday, March 24, 2020, regarding managing social phobias. The lesson will focus on how professionals can use massages and CBD to create a healing space for clients struggling with anxiety, OCD, panic disorders and PTSD.
To sign up for the virtual, hour-long lesson, visit Event Tribe.
For professionals: 10% off wholesale, free regular and drop shipping and Cannabis Master program for $199. Free weekly webinars and online classes to help them get their businesses and retail stores up online, how to offer over-the-phone consultations to clients and how to continue to be of service during this time.
For consumers: 20% off all Life & Pet Line products, plus free shipping. Use code staywell20 at checkout online.
"Your Endocannabinoid system is an essential player to keeping your entire body well balanced. In this time of uncertainty, staying balanced will be critical for your immune system and your sanity," Shauna Blanch, Color Up Co-founder and COO, said. "We want to encourage you to continue to take your CBD internally as a complimentary addition to a healthy diet, daily exercise, and mindfulness practice as you quarantine and social distance. This is essential to your well-being. It is essential to the collective good. And, essential for our entire community to come out of this stronger than we were before."
Blanch continued, "As a small business, we recognize and feel the challenges our community is facing during this unpredictable time. We are doing our best to accommodate and support each and every one of you. We promise to do whatever we can to support other small businesses."