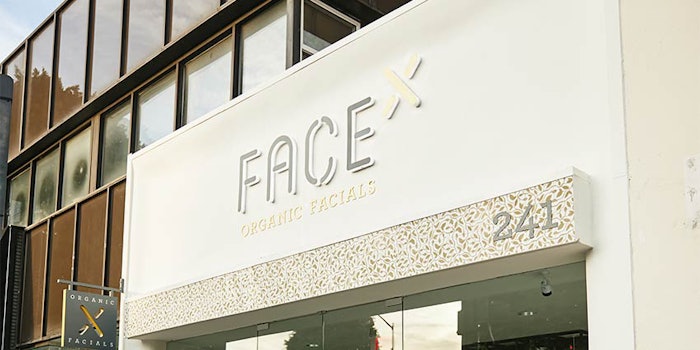 Self-service beauty bar FaceX, which opened its first location in Beverly Hills with plans to expand nationwide, offers a fully app-automated facial experience.
FaceX specializes in organic facials and aims to change the self-care service model with its app-automated system that puts customization in the customers' hand.
Co-founders Abhishek Boinpally and Jothi Prasad bring complimentary experience to the brand, producing a combination of hi-tech and hi-touch to the venture. Bionpally has more than 12 years of salon/spa experience and Prasad brings experience as a software engineer from Silicon Valley.
The FaceX experience is handled from start to finish through its innovative app, which allows people to easily make and manage appointments, check-in, pay, tip and view the after-care routine recommended by their esthetician.
Additionally, visitors can customize their treatment room experience with lighting, aroma and music (including their own playlist), as well as the option to put the esthetician on "do not disturb" for a chat-free treatment.
Bluetooth powered sensors sync with the customer's phone and send a notification welcoming them to FaceX, then notifies the esthetician of their arrival. At appointment time, customers are greeted by their esthetician and directed to the treatment room, which has been pre-customized to their preferences.
"We conducted extensive research and found that there was a need in the marketplace for a better and more streamlined customer experience," Prasad said. "Everything about FaceX is driven by the findings from our consumer research and the company's commitment to deliver a superior self-care experience that respects your time, clean products that nurture your skin and a price tag that is easy on your wallet."
"The FaceX experience with its unique features and systems, sets us apart from other self-care service bars," Boinpally said. "For instance, our extensive research showed that people would prefer to bypass interaction with a front desk or receptionist. We solved that with sensors using Bluetooth technology for automated check in and check out, making our clients feel welcome, relaxed and comfortable without having to rely on that first or last interaction defining a customer's experience with our brand. Our intention is to change the way consumers experience their beauty appointments in the same way that rideshare apps have changed transportation."