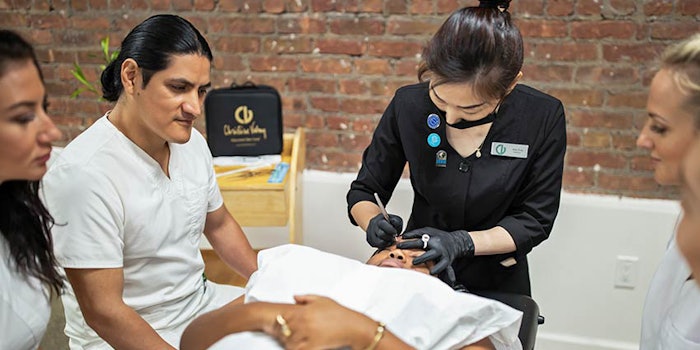 Christine Valmy has launched a new website and online shopping destination. The updated site allows aspiring beauty professionals to explore different programs offered at the Christine Valmy schools, as well as delivers a user-friendly experience through its simplified interface.
Through the site, visitors can also learn about Marina Valmy's approach to inventing all-natural, cruelty-free product formulas at the company's in-house laboratory.
The new e-commerce platform delivers a more streamlined shopping experience for consumers and professionals.
Individuals with a cosmetology or esthetics license will have online access to the suite of skin care products for professional use. Another enhanced feature: industry professionals will, for the first time, be able to purchase consumer products online with their discount applied automatically.
To streamline the local industry's recruitment efforts, the revamped Alumni Resource Center–a portal exclusive to those who graduated from Christine Valmy International Schools–includes a proprietary job board, where spas and salons can post open positions and alumni can apply directly through the site.
For those interested in exploring the history of Christine Valmy, an interactive timeline showcases the achievements of the organization and its founder through the years, starting 75 years ago when Christine Valmy first began developing formulas with ingredients from her garden.
The site also features a detailed calendar that displays upcoming dates for courses and continuing education seminars, making it easier to take advantage of learning opportunities across a range of beauty specialties, techniques and technologies.
"We are very excited to show the public what we've been working on for the past year," said Marina Valmy, daughter of Christine Valmy and current Organizational Leader. "A lot of thought and effort went into creating a site that would be enjoyable for finding content and shopping. At the same time, it was a top priority to make it highly functional, so it would be a useful resource for Christine Valmy students and alumni, industry professionals, and the employers who come to us to recruit new talent. I'm very happy with how it all came together." She continued, "We are thrilled to upgrade the digital face of the organization. Our long-standing customers, students and alumni have always been our biggest advocates, and we hope we have created an experience deserving of their loyalty."