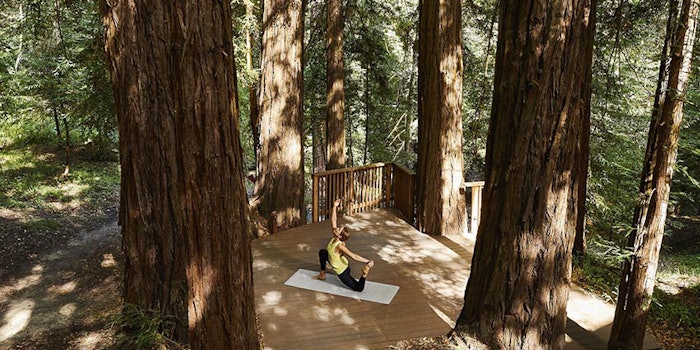 Canyon Ranch has debuted its first California property with a new signature concept: Canyon Ranch Wellness Retreat–Woodside. The new retreat model is an intimate and immersive wellness experience located in the redwood forest above Silicon Valley and marks the brand's first retreat model.
Previously: Babor Takes To the Sea With Canyon Ranch
In welcoming of its newest location, guests will receive a complimentary third night after booking two consecutive nights before January 5, 2020. The stay includes lectures, workshops, hikes, creative classes and more.
Set on 16 acres covered in ancient redwoods in Woodside, California, the property provides wellness seekers looking for rejuvenation and restoration with a community-driven, introspective and nature-infused temporary stay.
Reimagined by Cole Martinez Curtis & Associates, the property features 14 rooms in the main lodge and 24 stand alone tree houses on stilts among the redwoods. Each room has a private balcony.
Additionally, the property also features wrap around decks, an outdoor labyrinth to gardens and an outdoor obstacle course, as well as a collection of artwork, including Bruce Johnson's sculpture THE VOID, which is made from salvaged old growth redwood.
Signature programs
Canyon Ranch Wellness Retreat–Woodside offers two signature programs: Recharge and Connect. These two retreats start at $899 per person, per night.
The Recharge program focuses on self-care and building resilience and participants will challenge their physical abilities, as well as gain tools for living healthier and longer lives.
The Connect program focuses on mindfulness, disconnecting and immersing oneself in nature in order to calm one's spirits and reconnect with place, person and self.
Wellness services
The resort also features a collection of spa, fitness and mind-body services.
Offering traditional, alternative and modern therapies, the spa is comprised of five treatment rooms, an indoor saline pool and whirlpool and a fitness studio, called The Training Zone. Guests can choose from daily fitness classes, meditation sessions, nature walks, creative expression courses, wellness talks and so on.
Canyon Ranch Wellness Retreat–Woodside also offers destination excursions, like guided mountain biking and hiking trips, intimate Equus coaching sessions, personalized vineyard and farm tours and more.
Additionally, the resort offers private consultations, testing and assessments with nutritionists, physiologists, spiritual wellness providers and coaches.
Dining options
With breakfast, lunch and dinner included in the stay, Canyon Ranch Wellness Retreat–Woodside features The Hearth and The Hideaway–the resort chain's first bar and lounge.
The daily rotating menu is comprised of of consciously sourced and prepared, plant-forward, market-driven California cuisine, while The Hideaway offers a menu of cocktails featuring low-proof spirits balanced with market fresh ingredients, among other things.
"The opening of our first property in California is a significant milestone in the ongoing evolution of our storied brand," John Goff, chairman of Canyon Ranch, said. "This new concept distills our approach to integrative wellness into curated, goal-focused experiences with tools to empower our guests. Travelers today seek shorter, more frequent, and highly experiential trips and launching Canyon Ranch Wellness Retreats offers guests familiar with our brand - as well as those new to Canyon–an intentional, collective reset that embodies our philosophy."