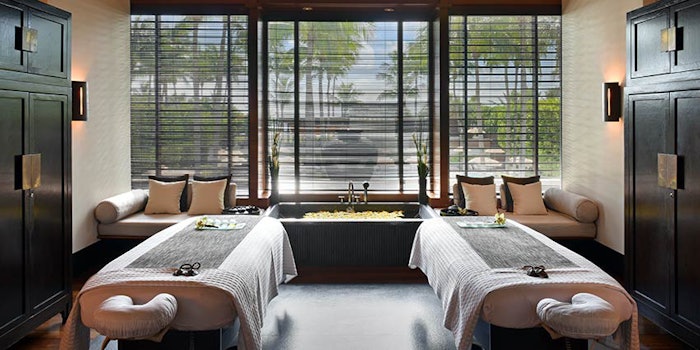 In January, The Setai, Miami Beach will be debuting Valmont for The Spa at The Setai just as the resort reaches its 15th anniversary. Valmont, a Swiss cellular skin care brand, is known for using Switzerland's natural resources in combination with the company's triple DNA technology to tackle anti-aging.
Valmont has created an exclusive treatment for The Setai that will include a 100-minute full-body service that combines a complete anti-aging treatment for nourished, revitalized, firm and glowing skin. The Spa at The Setai will offer a full menu of Valmont treatments, including the Japanese-inspired bespoke lifting massage.
The reimagined spa features four private suites for up to two guests, ocean and pool views, with poolside serenity pods, a private bath and steam room.
Three of Valmont's lines will be available for purchase in the spa: Valmont skincare, l'Elixir des Glaciers skincare and Storie Veneziane fragrances.
"It is our goal to ensure that our guests are provided with an ample number of experiences that enhance their wellbeing so they are refreshed and energized throughout their stay," said general manager Alex S. Furrer. "We are taking The Setai's wellness to the next level with a brand partner that aligns with our ethos and know Valmont, a well-established luxury skincare brand, is a perfect fit."
"We are honored to provide Valmont's luxurious treatments and products to the distinguished guests of the Setai with whom we share common values and view our mission as a search for excellence to deliver the utmost service at all levels," said Cedric Roget, CEO of CVL Cosmetics North America.