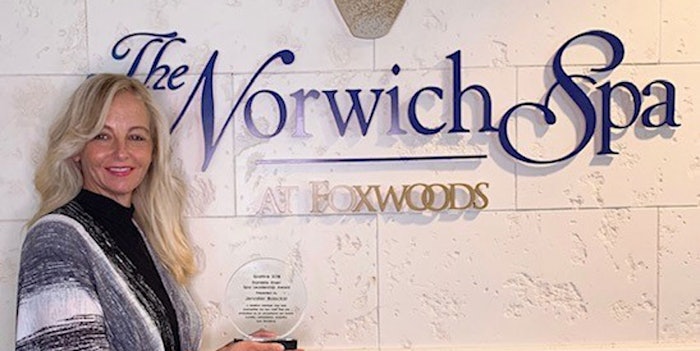 JMPankey Partners announced Martha Zyla from Cascade Spa at Mill Falls in Meredith, New Hampshire as the winner of the 2019 Danielle Knerr Spa Leadership Award. Zyla was presented this award at the SpaHive event that took place in September 2019 at the Spa at Norwich Inn in Norwich, Connecticut. 
This award was created in memory of Danielle Knerr, who was the spa director at the Spa at Norich Inn for over 18 years, to honor leaders in the spa industry that exemplify four critical traits: humility, compassion, empathy and discipline. Zyla is known for creating a relaxing and restorative experience and environment for all of her guests. 
"What an extreme pleasure and honor it was to have received such a prestigious industry award," said Zyla. "I am so grateful and humble and truly appreciate the recognition that Julie Pankey and fellow peers are giving to both me and Cascade Spa. Our team works tirelessly to give each guest the ultimate spa experience, offering the best-in-class services combined with extraordinary 5 Star customer service. I'm committed to excellence and to being an industry leader and a powerful voice for wellness."
Julie Pankey, owner JMPankey Partners and founder of SpaHive, continues to honor her friend through this newly created and special annual award. Pankey plans to continue providing mentoring and educational program to future award winners to help them expand their services, raise their standards, learn new solutions and tools, boost their business and maximize their profits. 
"Danielle was a true leader, an amazing human, and an inspiration to so many people. It was my great honor to create an award in her memory so we can recognize other exemplary industry leaders while celebrating Danielle's legacy," Pankey stated.