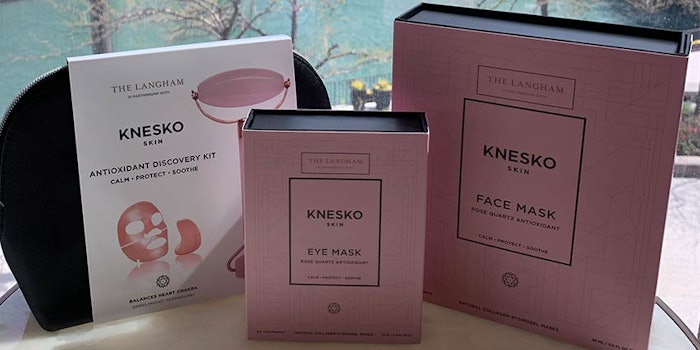 Knesko Skin has teamed up The Langham Hotels & Resorts on co-branded Rose Quartz Antioxidant Collagen Masks and a Discovery Kit with gemstone roller.
The Knesko Natural Collagen Hydrogel Masks with Gemclinical Technology contain five antioxidants, including vitamins C and E, white tea, licorice root and grape seed. They are designed for face and eyes, to calm and repair skin and protect from free radicals. Rose quartz, meanwhile, opens the heart chakra for self-love and compassion. The Discovery Kit features single face and eye masks, and a gemstone roller.
"We are thrilled enter into this 'pink partnership' with Knesko. When I first set eyes on the Rose Quartz collection, I knew it was a perfect fit with our brand color," said William Wesley Myers, regional director of spa, North America for Langham Hotels & Resorts. "Knesko has been a great resource for our spa for the past five years—Chuan Spa has been successful with the masks in the treatment room and retail boutique. This is our first foray into co-branding on a large scale. Knesko is a recognized brand with a growing consumer following on social media and in luxury retail outlets like Neiman Marcus and Bloomingdales. We put the tags #lovinglangham #Kneskoskin are on the packaging to encourage social media activation."
Created exclusively for the hotel brand, the products are available at The Langham Chicago and Pasadena, in Chuan Spa and the Flavors of Langham gift shop. Eventually, the products will be available for sales and marketing gifting, wedding planners, travel agents, tradeshows, and as a value-add for brides and bachelorette parties.
"We are delighted to take our partnership with Langham to the next level by co-branding. With the option to purchase the products retail in the spa and now in the hotel gift shop, Langham guests are encouraged to continue the luxurious spa experience at home," added Lejla Cas, founder and president of Knesko Skin. My intention when I founded Knesko was for women and men to take time for themselves and nurture their souls. The Rose Quartz is all about love and balance, the cornerstones of self-care."