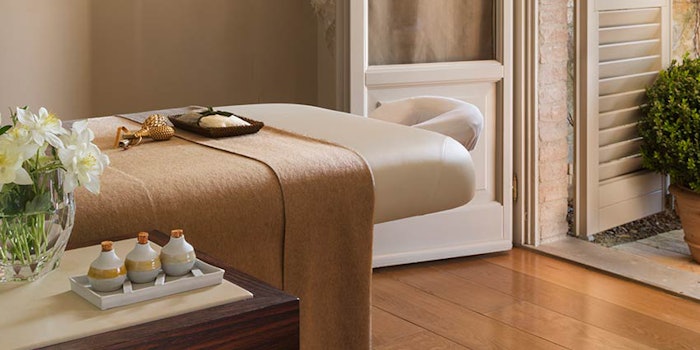 The Rosewood Castiglion del Bosco in Tuscany is putting an Italian spin on wellness: the resort has teamed up with Florentine apothecary Officina Profumo Farmaceutica di Santa Maria Novella.
The Spa at Rosewood Castiglion del Bosco has debuted Santa Maria Novella as its body care line, along with bespoke spa experiences utilizing the products. They include:
Tuscan Iris Embrace Ritual—Powder of the iris flower is mixed with hot iris oil to gently exfoliate the skin, followed by an infusion of Idrasol (cream rich in aloe, deeply moisturizing and soothing the skin) and a gentle massage. This treatment is ideal for sensitive and dehydrated skin, and pregnant clients.
Shine & Glow—Formulated to minimize skin discoloration and restore its natural glow, this facial treatment includes a peel with a mix of clarifying powders such as iris, lupin, nourishing oils and fruit and flower extracts that nourish and brighten the skin. The treatment also includes an arm exfoliation with pomegranate scrub, followed by a moisturizing and calming massage with pomegranate milk.
Tuscan Wine Embrace Ritual—A massage with anti-oxidant grape-stone oil, the treatment is designed to leave skin feeling radiant and refreshed and ends with a glass of the estate's signature Brunello di Montalcino wine (rich in anti-oxidant polyphenols).
Perfect Skin—Suitable for all skin types, the face treatment restores the correct skin hydration and suppleness through jojoba oil, avocado oil and carbo extract. This facial is ideal for a long journey or exposure to the sun.
Additionally, the resort has unveiled all-encompassing wellness programs that utilize the Santa Maria Novella products, ranging from group retreats to individual pampering.
The Group Retreat—Featuring yoga or boot camp sessions, healthy breakfast, Santa Maria Novella facial treatment and personalized massages.
Pamper Yourself—Including a private personal training session, personalized beauty lesson, a Santa Maria Novella body treatment and a healthy food and beverage amenity.