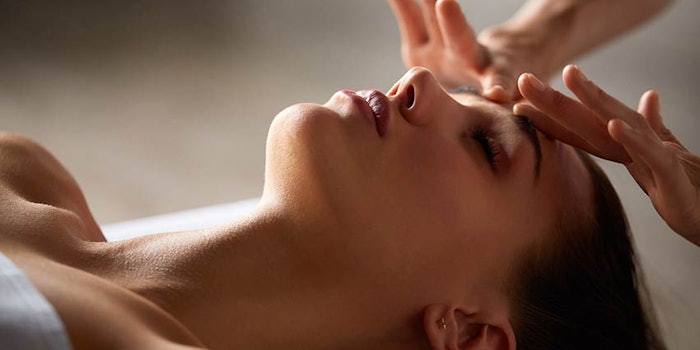 Massage Envy is partnering up with Obagi, bringing the skin care company's facial service and medical-grade products to its locations nationwide.
The customizable Obagi facial will be available to customers for less than $100 (price dependent upon the customer's membership status and location), with add-ons including extractions, retinol, vitamin-c treatments.
Products used in the facial will be sold at retail, offering customers the chance to take the professional-strength products home.
To bring the facial to its clients, Massage Envy's estheticians will undergo treatment and application training specific to the service, along with Obagi certification process.
Massage Envy's Obagi Facial : Step-by-Step
Facial Prep
Before your first Obagi Facial begins, your esthetician will sit you down for a consultation to understand your skin health history to ensure sage treatment protocols. You will also set goals for the session and discuss how to correct issues.
Once you are dressed down, the esthetician will cleanse your face using steam with a technique that utilizes massage techniques.
The esthetician will analyze your skin under magnification and educate you on the concerns you can correct and review which at home products will work best for after-care.
Facial Session
Exfoliation: A customizable portion of your facial, the process will be tailored to your skin needs with the different Obagi exfoliating options. While the exfoliant is processing on your skin, the esthetician will give your arms and hands a relaxing massage. Once the exfoliant has processed, it will be washed off with a warm towel.
Extractions: As you need, the esthetician will perform extractions. This service comes at no extra charge.
Toner, Application 1 of 2: After your extractions, a toner will be applied to your skin. While the toner is processing, the esthetician will perform a face, neck and décolleté massage. Once the toner has processes, it will be wiped off with a warm towel. Application 2 of 2: Your esthetician will apply a second layer of toner to your skin.
Mask Application: Another customizable portion of the facial, you will choose between several different options. Your esthetician will apply to your face and massage your face for 2 minutes. The product will process for another 8 minutes, during which you will receive another relaxing massage for your neck and shoulders. After the mask processes, it will be removed with a warm towel.
Final Treatments: Another portion where you can pick and choose which services you want to receive. See below for a full list of options—all come a no extra charge.
Elastiderm Eye cream
Professional-C Serum 15%
Retinol 1.0—Also known as Vitamin A, resurfaces your skin and helps reverse sun damage, dark spots, acne and aging affects.
NuDerm BlendFX—lightener for sun damage and hyper pigmentation
Finishing Touches: Your esthetician will apply Obagi Hydrate moisturizer, SPF and lip balm
Post Facial
While you redress, the esthetician will gather 2-3 retail products used during the massage. They will review the products and educate you on the best products for home-care.
You'll then be escorted to the front to pay for the treatment and any products you want to take home that day as well as schedule your next facial appointment.