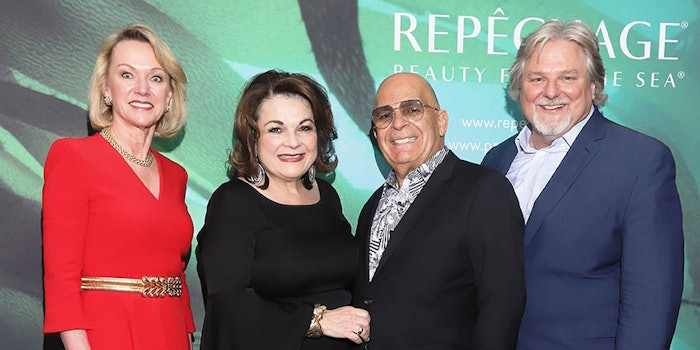 Repêchage hosted its 21st annual International Conference at New York City's Museum of Arts & Design.
Welcoming attendees from more than 20 countries, the event featured industry experts offering insights into the hottest topics in the field, and the unveiling of Repêchage's latest collection.          
1. Repêchage is Going for the Gold
After a parade of nations and opening remarks from Shiri Sarfati, Repêchage founder and CEO, Lydia Sarfati, kicked off the event by unveiling the company's latest innovation—the Vita Cura Gold Collection.
Consisting of the Repêchage Vita Cura B3 Serum Complex, B3 Elixir Complex and B3 Lifting Mask, the trio fights aging with high concentrations of the company's Laminaria Digitata Seaweed Filtrate, alongside niacinamide A form of vitamin B3, two forms of hyaluronic acid, peptides, adenosine, sea moss (appaphycus alvarezii) extract, caesalpinia spinosa fruit extract and chrysin.
Benefits include improved glow and radiance; deep hydration of the skin surface, restoring the natural moisture barrier; reduction in pores and visible signs of aging, such as fine lines and wrinkles; diminished dark spots; and an appearance of restored firmness.
The company partnered with a professor from the University of Connecticut to source its iconic ingredient in the U.S.—resulting in air dried, air processed seaweed sustainably harvested in Maine.
2. It's What's Outside and Inside That Counts
Following Sarfati, Samuel Shatkin Jr., FACS, M.D., principal physician and owner of Aesthetic Associate Center for Plastic Surgery in Buffalo, New York, took to the stage to address Inflammaging: the ways in which inflammation accelerates the aging process, ranging from the aesthetic to chronic diseases such as Alzheimer's.
"Now we know, with scientific proof, that protecting ourselves on the outside keeps us healthy on the inside," said Shatkin.
Emphasizing the importance of using good skin care products to maintain a protective moisture barrier, Shatkin then introduced his independent study of the Repêchage Vita Cura Gold Collection, analyzing the results of 10 patients using the collection for a 21-day period. Patients used the serum and elixir twice daily, and the sheet mask three times a week. Among his findings 88% of patients reported:
Tighter and firmer skin
Smoother skin
Reduced dryness
Additionally, 88% of patients said they liked the products and would recommend them to others.
3. Inspiring the Next Generation of Beauty Leaders
Bellus Academy founder Lynelle Lynch took to the stage to share the mission and work of Beauty Changes Lives, a nonprofit organization dedicated to making beauty a first-choice profession for the next generation of job seekers.
Lynch, who serves as Beauty Changes Lives president, noted that over the next ten years, there will be 1.3 billion open jobs in the beauty industry. When the International Spa Association asked her how those positions could be filled, she felt the answer was clear: industry professionals sharing their passion for their work and clearing the barriers—such as funding—which often stand in the aspiring professional's way.
"It's our opportunity—really our responsibility—to hand select our future," said Lynch.
She outlined the organizations existing initiatives, including awareness, scholarships (for both students and working professionals seeking advanced studies), mentorships for young professionals and encouraging industry vets to serve as advocates.
Moving forward, the organization plans on capitalizing on the entrepreneurial spirit of Gen Z by showcasing influencers who have "made their mark" and transformed their careers within the beauty industry.
4. What You Need to Know When it Comes to CIDESCO
Closing out the speaker portion of the event, Paul Dykstra, CEO of Cosmetologists Chicago and CIDESCO USA, encouraged attendees to learn more about—and pursue—CIDESCO membership. Launched in 1946, CIDESCO offers diplomas, certificates, accredited schools and spas in 30 countries around the world—providing an internationally recognizable standard of excellence for those who bear the badge. Among the organization's latest news: in 2018, it debuted its certificate in skin care, geared towards qualified estheticians and cosmetologists seeking advanced international qualification.
The 2019 CIDESCO Congress will be held September 19-22 in Chicago.
5. And the Awards Go to…
The event ended with a celebration of salon and spa professionals during the Repêchage President's Awards. Given in various categories to establishments and individuals that demonstrates esthetic excellence as well as dedication to the elevation of the industry, this year's awards and winners included:
Award of Excellence (Public Relations): Paola Giovanettoni of Repêchage Italia
Award of Excellence (Retail Superstars): The Wax Specialists (Manchester, New Hampshire)
Award of Excellence: MassageLuXe (Davie, Florida)
Dedication to Community Enrichment: Steve Hightower, Steve Hightower Hair Salon & Day Spa (Atlanta)
Dedication to Industry Standards of Excellence: Paul Dykstra, CEO of Cosmetologists Chicago and CIDESCO USA
Rising Star (Distribution): Repêchage Estonia
Dedication to Advancement in Esthetics Education: Lynelle Lynch, Bellus Academy
Heart of Beauty Award: Brenda Le Grange, Spa E (Miami)