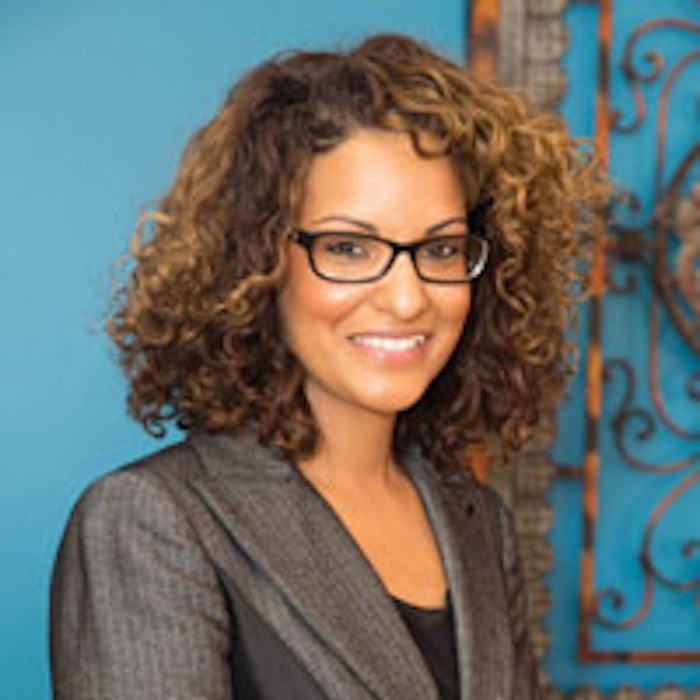 "Opening up my own spa was the one thing I aspired to do because I've always had a passion for wellness of the mind, body and soul," Dominguez says. After receiving her esthetic and massage therapy licenses in 2005, she was ready to make her dream into a reality. "My spa was my prodigy, and I wanted its atmosphere to flow with vibes of relaxation and wellness with images of calming, yet powerful ocean waves," she explains.
Q: Why did you choose to go into the skin care industry?
A: "At the age of 10, when I wasn't at school, you could always find me sweeping the floor and picking up towels at Isa's Unisex, my mother's beauty salon in Washington Heights, NY. I especially remember conversing with the regulars, and loved it. I wanted to know all about them, and would always ask how their days were going and what I could do to make their stay as delightful as possible. I answered phones, translated for the non-Spanish-speaking clients, and handled anything that would allow me to learn more about the business. No matter what I did, I always made sure our clients were satisfied in all aspects. Although I wasn't certain yet what career path I would take, I knew I wanted to run my own business some day and I wanted to make people happy in the process. I just needed time to figure it all out. And here I'm writing this and knowing that servicing others is exactly why I decided to go into this industry."
Staying current
"Education! At times it can be a bit hard to go to all the classes and shows, but it's very crucial and essential for me to take as many class online and attend a variety of different classes. We're also trying new things and giving surveys to our clients to get feedback and stay up to par in this business. My partner and I also go to many spas to treat ourselves and see what other spas of different statuses offer. It's a win-win for us—learn and get treated. You will be surprised what you learn while being serviced in different spas."

Favorite product line
"Repêchage! I have worked in many spas and salons, and this line is my favorite because it is a seaweed-based line, which means the products are natural, making them a big hit for us ... the education provided plays a big part in the reason, as well. They cater to the skin care specialist and the business owner. That is the world I live in everyday I walk through the Oasys Day Spa doors."
Skin care mentor
"My mother has influenced me in a multitude of ways, and the two things I most admire are her dedicated work ethic and her generosity ... As a child I would hear her speak to family and friends, expressing that her language barrier would not bring her down, and it did not! she opened her hair salon without knowing one word of English, and succeeded. I remember how great it felt to see my mother becoming more confident and happy each day as her business grew. I absolutely loved being her assistant, and it was great for me to gain that hands-on experience from a young age. Her influence has made me the successful spa owner I am today."
Favorite treatment
"The Repêchage Vita Cura 5 Phase Firming Facial. It is designed to invigorate, lift and firm mature skin ... it not only relaxes the client, but also gives me the opportunity to embrace the relaxation, as well. It is a very rewarding experience overall."
Finding inspiration
"What inspires me most is when there is a task or project that has to be done—when it's all done, and the results are amazing! Also, another important factor is being surrounded by a staff with positive energy, and of course, my dedicated clientele. When I see that I have made a client's day with a massage or facial, it is truly the most rewarding feeling, and it inspires me and motivates me to keep going. It keeps me going and expands my mind to higher heights."
One more thing ...
"I would like the readers to know that dreams do come true, but they don't just happen. You have to work hard to achieve your goals. What I do as a skin care professional and massage therapist is a part of who I am and I love it. Making others happy and putting them in a place of peace and tranquility puts my own mind at ease."