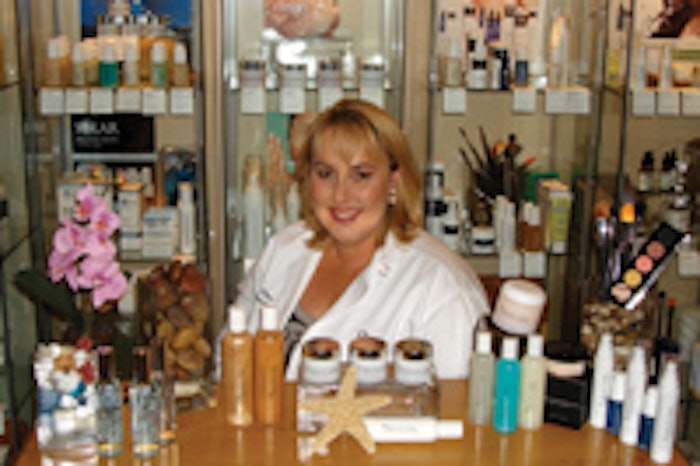 Unlike many spa professionals who find their love of skin care through experiences in school or at home, Charlene Keefe, owner of Skin By Char in Huntington Beach, California, discovered her passion through her work in department stores. Twenty years ago, Keefe began her skin care career as a promotional model for the prestige line Clinique in the Orange County, California, area. "My job was to introduce gift-with-purchase promotions around the store and help customers," explains Keefe, who found that she had a knack for helping people. She wasn't the only one who noticed this talent. "I got recruited by a store manager who wanted me to work behind the counter, so I decided to do it and began selling cosmetics. I found out I was good at listening to people and giving them what they wanted. If they were having an issue with their skin, I would address that issue," she says.
It was during this time that Keefe honed skills that proved critical to her future skin care success; details such as follow-up and nurturing loyal clients. "I kept building relationships with customers, and I was really good at follow-up. It wasn't about sales; it was about listening to the customers and introducing them to other things," states Keefe, who soon became a top producer for Clinique.
It was during this time in her life she decided to put her career on the back burner while she started a family. After taking several years off, she decided she wanted to work at a store that was known for customer service. Immediately, she thought of Nordstrom. "I went to Nordstrom because I knew it had a reputation of doing anything for its customers. You can even introduce those customers to a different makeup line than the one you're representing if it suits their needs," says Keefe. Because of this open-door policy, Keefe also was able to enhance her knowledge of skin and skin care products by attending education offered by all of the lines carried at Nordstrom. "I would go to those classes and learn about other lines in order to become more well-rounded. I thought that was the best way to do it," explains Keefe.
As her client list continued to grow, she met someone who planted a seed that would soon flourish. While in the store for a program, eyebrow legend Anastasia Soare spent time with Keefe showing her some eyebrow tricks. Soare was so impressed with Keefe, she offered her a job that Keefe ultimately declined, and also told Keefe she would do well if she had her own business. This suggestion would soon become a reality.
Not long after this conversation, Keefe suffered a back injury that left her unable to work for a period of time. Although she couldn't go back to work at the Clinique counter, Keefe didn't want to stop helping people and realized that her interest extended beyond cosmetics; it involved skin care more than anything else. "You have to know your product, what you can and can't mix with it, your client's skin type, her history ... it's the pieces you're given and you put together like a puzzle. Clients need to know how, when and why to use a product; otherwise, they can ruin their skin. That's why I went to esthetic school; I wanted to learn all the fundamentals of esthetics," she explains.
After receiving her license from Golden West College in Huntington Beach in 2005, Keefe shared a rented room at a salon with another esthetician for six months, and tried to decide on the best product line for her clientele. Because of her product knowledge, Keefe began working with YG Labōratories on developing a private label line, which now has 60 SKUs. Then, in 2006, she opened her own small spa—the same location she is working in now—focusing on providing results to her clients through her treatments and home-care products, which include her private label line, as well as Circadia By Dr. Pugliese. "When selling retail, don't be worried about making X amount of dollars; you have to put that aside. Meet clients' needs, develop a long-term relationship with them, help them choose the right product and don't overload them," she says.
Focused on learning even more about cosmetic chemistry, Keefe recently completed both parts of a cosmetic chemistry class at the University of California, Los Angeles (UCLA), taught by ingredient guru Rebecca James Gadberry, with the intent of formulating her own line one day. "I hope with that education, I can hook up with a cosmetic chemist and understand the terminology when we formulate products. I want to be in it and be part of it," says Keefe. By focusing on offering the right products for her clients, Keefe is making an investment in her business—and her clientele—that promises to pay off for years to come.