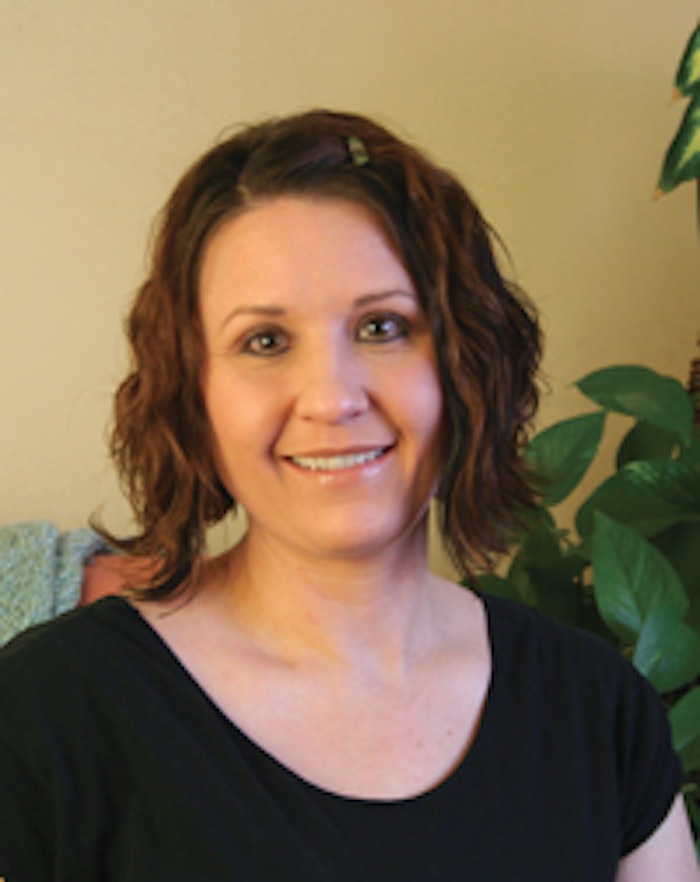 My dad always told me, 'I don't care what you do for a living, just make sure you're the best at it,' " says Sheila Hone, master esthetician and owner of Payson, Utah's Renewal Day Spa & Wellness Center. "I'm not there yet; I feel I have a long way to go." It is this no-holds-barred attitude that has guided Hone throughout her career, beginning when she received her cosmetology license in 1986 from Evans Hairstyling College in Lindon, Utah. "I did my first facial 24 years ago, and I remember how much I loved sitting in that room and doing facials. Esthetics wasn't really big back then," she explains.
After obtaining her cosmetology license, Hone was a hairstylist for several years, then stopped doing it because she believed it wasn't what she was meant to do. Taking a break from her career, she focused on raising her two sons and stayed away from the beauty industry for a while. "I kept up my license, and when I was ready to get out of the house and do something, I noticed a new building that said GlyMed Institute of Skin Sciences when I was driving through Spanish Fork, Utah. I was immediately intrigued," says Hone. "My first phone call to get back into this industry was to GlyMed, and that's where I learned the word 'esthetics.' "
The person Hone spoke to guided her in the right direction, leading her to Bon Losee Academy of Hair Artistry in Provo, Utah, where she eventually obtained her master esthetician license ... but her experience was not without a few bumps in the road. "Because I had kept up my license, I was qualified to have my basic esthetic license, so I only needed four more months for my master esthetician license. It was so over my head that I dropped out the first day and waited three weeks for the next basics class to start," she explains. After dedicating eight months of full-time course study, Hone graduated as a master esthetician in 2003.
Having worked in a spa directly out of school, Hone decided she was ready to work for herself and opened a spa with a partner in 2005. Unfortunately, the partnership was not a good one. "I realize now that we each had a different focus, and we weren't seeing eye to eye; the most appropriate word I could use is 'unbalanced,' " she explains. After making a clean break from that business, Hone opened her own spa a few miles down the road in 2006. "We didn't move very far, but it put us in a different demographic because we are near the hospital and other health care buildings. Our clientele appreciates health, and we realized it's all about health; we did not want to be looked at as a once-a-year place," says Hone, and this focus has resulted in an approximately 85% repeat visit rate for clients.
One of the unique aspects Hone provides to clients is homework to learn more about their skin conditions. According to Hone, "People don't always come in and have questions, but they want answers. They want guidance, and they don't want to be bullied by big words." Education isn't something she provides only to clients, however; Hone is also an esthetics instructor at American Beauty Academy in Payson. "I teach the orientation class, and it has been such fun. I get to share a little bit of my knowledge and in every class, at least one girl in hair will love esthetics class and may want to pursue it further . They love it and I love it," she enthuses.
With her eye on the future, Hone wants to continue her focus on education by offering apprenticeship opportunities to up-and-coming estheticians, and also would like to become more educated herself. "I feel as if a change is coming. I'm so busy with my two jobs, but I'm craving education. I love ingredients, but feel like I haven't had time to learn about them very well. I'm also going to check out CIDESCO," she says.
And when this inspirational spa professional needs some inspiration herself, she gets it from one of the textbooks that sits on her nightstand. "What gave me a second wake-up call was a statement in the book Advanced Professional Skin Care, Medical Edition (The Topical Agent, LLC, 2005) by Peter T. Pugliese, MD. It says, 'Remember that you are a professional, and you must know the reasons for everything you do; otherwise, you are a nonprofessional technician.' I know a lot of estheticians who are just going through the steps, and I just want to dive in and get more education," shares Hone. And that is exactly what she intends to do.