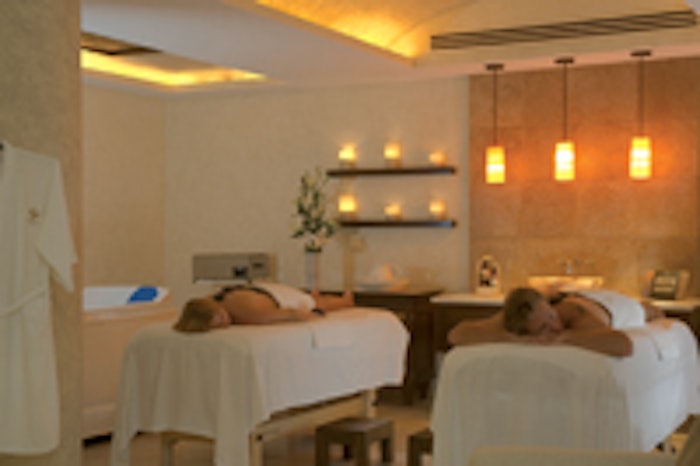 Editor's note: Each year, Repêchage holds its annual Spa de Beauté Award of the Year contest to honor industry businesses committed to esthetic excellence. In 2009, Skin Inc. magazine had the honor of judging this award program, and the Spa Snapshot columns in the November 2009, December 2009 and January 2010 issues highlight each of the winning spas. This month's Spa Snapshot features the winner in the Destination Spa category.
Situated as a tranquil oasis on the sultry shores of Mexico's western coast, Tatewari Spa at the Villa del Palmar Flamingos resort in Nuevo Vallarta, Nayarit, Mexico, centers on refreshing waters, soothing treatments and targeted skin care offerings.
Helping celebrate honeymoons or other events, Tatewari Spa's couple's treatment room allows clients to enjoy massage, facials and other spa services together.
The spa, named for an indigenous Mexican spirit, has been open since 2006 and was dubbed "Tatewari" to match the atmosphere it offers its clients. "Tatewari is a deity that is related to the process of healing," notes the spa's external consultant Yolanda Amador. "Tatewari is a shaman, a native Indian healer, and that's where the inspiration comes from."
"The spa is a mix of Mexican and European decor," she continues. "All the treatment rooms have wooden and marble elements, making it a little more European in that way, but the artwork is based on the area's native Indian background." The spa features 15 treatment rooms and a couple's suite where menu items such as body services, facials and massage are offered; a full beauty salon that provides nail and hair services; and a barber shop available for men seeking grooming options.
Also taking a cue from its coastal location, Amador says, "We are located near the ocean, so our water therapies and seaweed-based spa treatments match those aspects of the resort." The spa's water therapy relaxation area, which clients are encouraged to take advantage of for hours at a time, includes a whirlpool, steam room, sauna, cold spring water plunge pool and waterfall rinse cascade shower to help people ease in and out of their spa experience. "People can stay and read or just stay to relax. There's no time limit," she explains.
Used by guests of both the Villa del Palmar Flamingos and the Villa La Estancia, an adjacent resort also owned by Palmar Flamingos' parent company, The Villa Group, Tatewari Spa finds itself attracting people seeking spa services for a variety of reasons. Many seek the skin care services, such as the always-popular hydrating and deep-cleansing facials, while others want appearance-enhancing body treatments, such as the seaweed and peppermint wraps, and honey scrubs. Still others are looking for soothing relaxation, scheduling holistic, deep tissue, Swedish—and the recently introduced Thai—massage sessions. "We are offering the Thai massage in our open relaxation area, which includes an indoor garden," notes Amador.
The centerpieces of Tatewari's menu, however, are its three signature treatments—the Tatewari Signature Spa Experience, which includes a Swedish massage and hydrating facial mask; the Sea Escape Stone Facial and Body Treatment, combining a multilayered facial with stones placed on the body to balance the chakras; and the Pacific Ocean Pure Body and Face Revival Therapy, which offers ayurvedic hot oil therapy, hot stone massage and a hydrating facial to soothe the skin and body.
"All three of these body and facial treatments are done in combination with each other and are synchronized to create the most relaxation and provide the best results possible," Amador explains. "I really recommend our signature experiences to clients because they're very different and are really nice ways to experience rejuvenation for the entire body."
Feelings of rejuvenation and refreshment are the main objectives at Tatewari Spa, and because the majority of its clients are resort guests, the spa's team members focus on providing lasting, quality customer experiences. "When clients arrive in our registration area, we first have them fill out forms about their medical history, then we discuss their best treatment options based on what they want to have done," Amador explains, noting that Tatewari's therapists will sometimes recommend an alternative treatment if the one the client has chosen isn't likely to bring the results they are looking for. "After we figure out which option is the best for them, they go into the locker and changing rooms, then we have valets who escort them to the water therapy area and explain the options. After they have relaxed and when the therapist is ready for the treatment, the therapist retrieves the clients, brings them to the treatment room and explains the service they are about to receive. The clients then receive the service, and afterward, they are given a glass of chlorophyll water and are taken back to the water relaxation area."
A unique take on the traditional offer of a healthy beverage after a treatment, the chlorophyll water provides clients with additional antioxidants, minerals and vitamins to enrich the skin from the inside out, and clients can also sample fresh fruit and juices in the relaxation area while spending an unlimited amount of time enjoying the water amenities following any treatment.
It is this sort of attention to client needs that helped Tatewari Spa become the 2009 Spa de Beauté Destination Spa of the Year from Repêchage, but the spa isn't resting on its laurels. In fact, it is currently working on revamping its treatment menu for the new year. "Although the specifics haven't been decided yet, we think a renewal of the spa treatments for 2010 will be very enriching for our clients," Amador says. And with its history of relaxation-centric offerings, this menu revamp is just one among many details offered by Tatewari Spa that its clients can indeed anticipate.