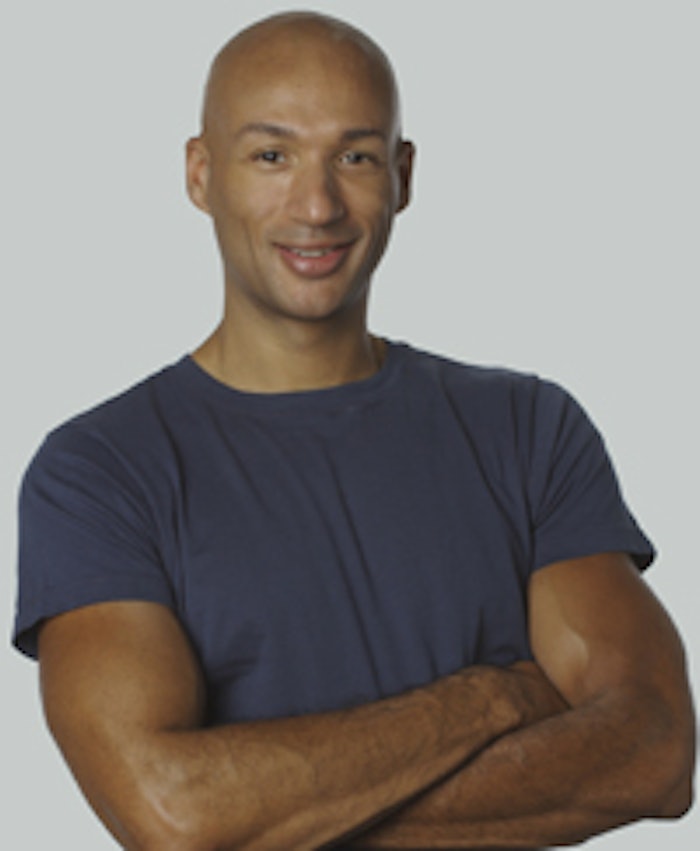 When soul singer James Brown crooned about it being a man's world, he probably wasn't thinking about the spa industry. A notoriously relaxing and accepting industry, the spa has been and remains a sanctuary that has often catered to women more than men. And although many spas are working to create more men-friendly environments for potential clients, it often can be a different story when it comes to male estheticians. Lawrence Ferguson, lead esthetician for Urban Body Studios in Atlanta, a wellness studio that offers fitness options as well as a spa and salon, has experienced the challenge of breaking into the industry from a male point of view.
Ferguson began his career in the beauty profession as a hairstylist near Washington, D.C., where he graduated from the Graham Webb Academy in Arlington, Virginia, in 1991. "I got out of hair because I hated standing up all day. It wore on me," laughs Ferguson. "I enjoyed what I was doing from a creative standpoint, but financially, it wasn't paying off."
After leaving the hair industry, Ferguson decided to work for his father in information technologies (IT) in order to build more financial security. "When I was in high school, I would go to work with my dad and watch what he did on a daily basis. When I asked to start working with him, he said I could on the condition that I become more familiar with IT," says Ferguson. In order to do so, he took Web classes at local community colleges and became certified in IT from the Computer Career Institute at Johns Hopkins University in Columbia, Maryland in 2003.
In 2005, Ferguson decided he wanted to get back into the beauty industry because he missed it and fondly remembered studying skin and nails as a part of obtaining his cosmetology license. He moved to Atlanta and began attending the Aveda Institute. "While I was at the institute, I knew this was what I wanted to do because I was using the gift of touch. It went well and I got it. I knew this was exactly what I always needed to do and wanted to do," he says. Unfortunately, excelling as a student did not make it any easier for Ferguson to find acceptance in the real world.
"In the process of graduating, a lot of the other students were getting job offers left and right. I went to every venue I could, and I got turned down right away because I was a guy," explains Ferguson, who remained persistent in his job search and soon found the perfect fit at Urban Body Studios. "I set up the spa and salon, interviewed and met with reps, helped set up the spa menu and design the physical layout. I had behind-the-scenes input in the development of the spa. It gave me a lot of insight for when I want to open my own place in the future," says Ferguson, who has developed a wonderful reputation in the area and has been profiled in the local media.
Ferguson credits his boss, Rad Slough, for giving him the opportunity to break into the industry and grow as a professional. "If it wasn't for him, I don't know where I'd be right now. He's allowed me to spread my wings," Ferguson says. And another important mentor, Madame Walker, his esthetic instructor at Aveda, also still keeps tabs on him. "She embraced me and, in class and after class, gave me so much information and encouragement. To this day, she calls on me and checks to see what I'm doing," he says.
The battle for acceptance in a female-dominated profession is still one Ferguson has to fight occasionally, but because he remains positive and professional, he doesn't feel overwhelmed by the situation. "With clients, when they call and the reception desk tells them my name, every now and then I have a person who doesn't feel comfortable with that. It doesn't bother me, and it has a way of working out. My clients tell other people about me and how they totally relax and have a great treatment. It makes me a better person knowing that I can change someone's opinion about me and my professionalism," he says.
But will all the lessons he's learned about spa management and professionalism at Urban Body Studios become something larger for Ferguson in the future? "I would like to open my own spa someday," he says. "It's on the back burner to open a small studio. I'm not in a rush." And he stresses that he wants to continue learning, no matter what. "Education is something you continue to do throughout your life. Things change, new technologies and new procedures come into play. It's great to keep yourself in the loop," he explains.
Ferguson has learned a lot in his career—both about esthetics and the power of perception—and all those lessons continue to drive him toward success in the industry. "Have integrity and keep focused. Don't let other people deter you from your dreams. As much as I was upset that people wouldn't give me a chance, I knew something great was going to come," he says. "Keep your head up, believe in yourself and trust that all you have learned will pay off in the end."