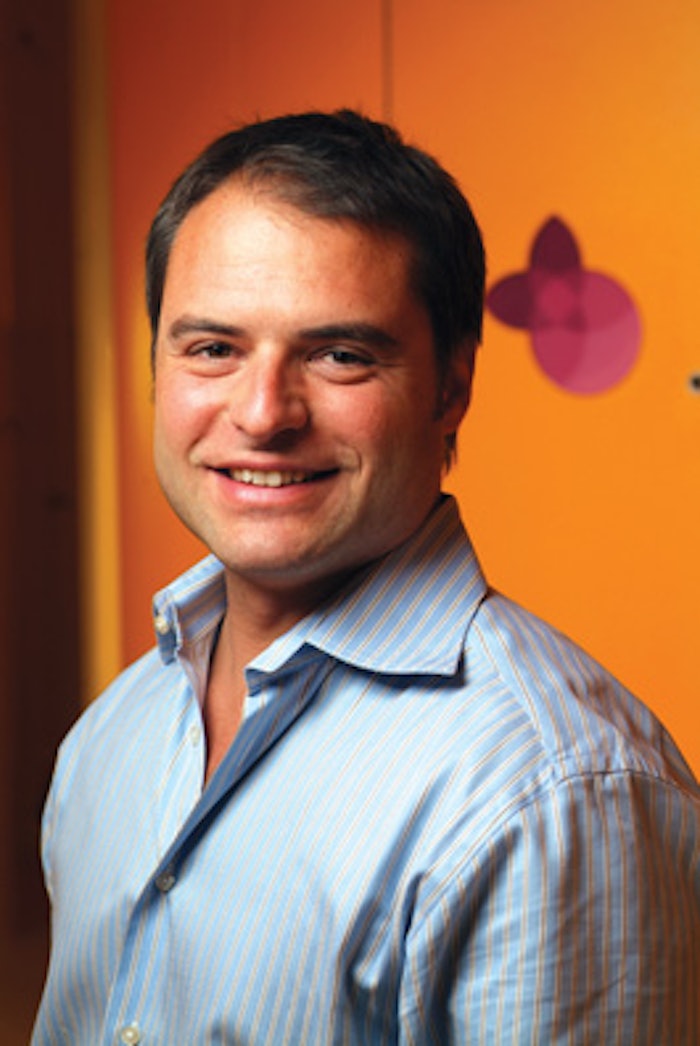 Quality sleep is essential to healthy living, something Nicolas Ronco, the founder and CEO of Yelo, a wellness center in New York based on the rejuvenating effects of rest, knows well.
Growing up in Tunisia and France, going to school in Paris, then moving to New York to get his master's degree in business from the City University of New York, Ronco always had an interest in health and wellness. It wasn't until he was in the midst of a career in marketing, however, that he realized how rest could be brought into people's lives as a treatment.
"I started from a completely outside view—I'm not from the spa industry," says Ronco, who worked in marketing, sales and business development for the music and publishing industries before opening Yelo. "My first job after getting my MBA was working for Time Warner, and I travelled to industry business units in Asia and Australia and would get crazy jet lag."
During a business trip to Japan, he discovered that workers there were able—and even encouraged—to take short naps during the day. In this, Ronco saw the opportunity for sleep's relief to help American workers, too. "I know I've been in a budget meeting at 3 pm and everyone's eyes are rolling because they are so tired, and I thought, 'It would be so great to just go to sleep for 15 minutes, then be able to come back and be productive immediately,' " he says.
Ronco had also been to spas throughout the world and realized the treatments he'd received, such as reflexology, weren't just luxuries—they were important to achieving and maintaining proper health. "In order to cope, people are going into what I call the chemical cycle," Ronco explains. "To be alert and awake, people feel like they need to stuff themselves with caffeine and coffee, then drinks at happy hours, and then sleeping pills to get rest at night. It's just not healthy."
With this knowledge, Ronco was inspired to open Yelo in early 2007. The wellness facility provides time and space for exhausted urbanites to catch up on some much-needed shut-eye with specially designed YeloCabs, or self-contained environments that are attuned to each person's ideal sleep sounds, smells and sensations. They also feature zero-gravity YeloChairs that recline space shuttle-style and help blood flow to the chest, lowering the heart rate and encouraging sleep.
A staff of state-licensed therapists, who are also certified by the American Reflexology Certification Board, offer reflexology and microcurrent facial treatments. However, Ronco keeps the menu simple in order to stay true to Yelo's nature—clean and easy. "At Yelo, the only thing people have to take off is their shoes," he notes.
The wellness center's unique focus helped get the word out about Yelo early on, with pieces in national newspapers, magazine and on television programs, and Ronco used the attention as a springboard to build his new business. "It was an advantage to come from outside of the industry," he explains. "I'm not a former therapist who decided to create his own spa, so I didn't just reproduce all the industry things that have been seen before."
There were still a few bumps in the road, though. "It was a challenge to educate people about the power of napping in the city that never sleeps," Ronco says, but to keep growing, he decided to use his business background to approach companies about integrating Yelo into their medical benefits.
Approximately six months after Yelo opened, Ronco signed deals with powerhouse corporations such as Time Warner and Random House to advertise Yelo in their buildings and encourage employees to rejuvenate there by stopping in to take naps, receive reflexology treatments or get microcurrent facials. Encouraged by a positive response, the companies were soon asking Yelo to develop anti-smoking and weight-loss treatments, as well.
These achievements haven't dulled Ronco's desire to keep Yelo expanding, however. He is planning the launch of a second location in Hong Kong in 2009, and intends to keep the line growing worldwide, envisioning YeloCabs in airports, train stations, malls and other highly trafficked areas in urban centers around the globe. He also is interested in technological movements within the wellness industry and is working to include more detoxification and nutrient-based health to Yelo's offerings.
But it's the basic principle of sleep that helped get him where he is today. "It's crazy how simple the solution was," Ronco enthuses. "People think, 'Napping is something I did when I was 5, and maybe when I was 20 when I was a student,' and they stop because it's something culturally frowned upon. But my goal was to get people out of that unhealthy chemical cycle, and now I have 5,100 clients who are addicted to the sleep they get at Yelo."