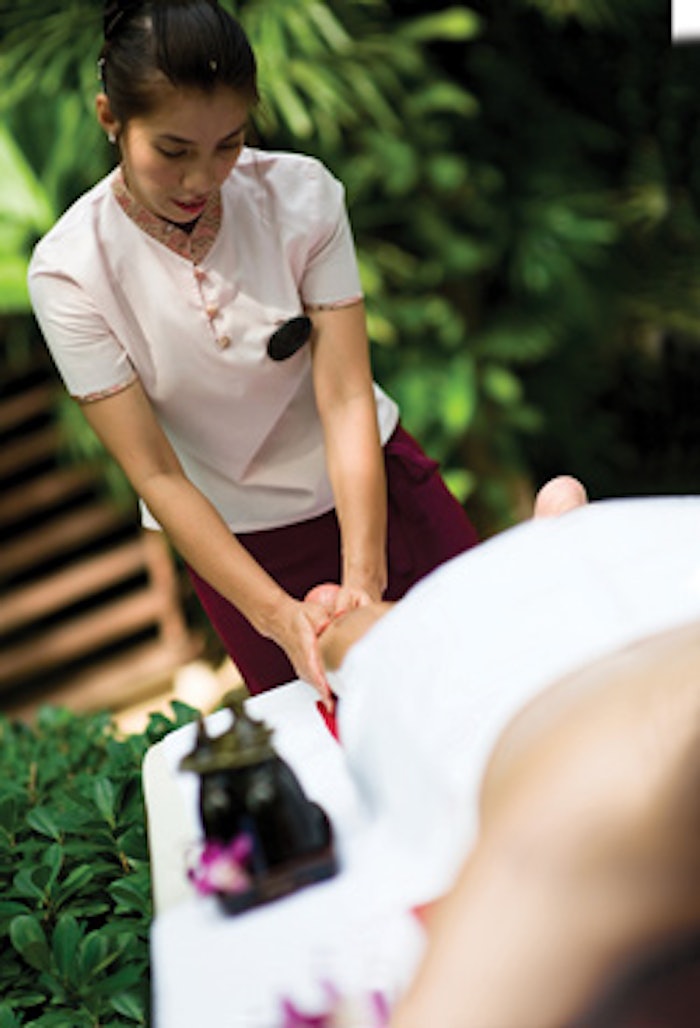 Thailand has been called "the land of smiles," but it could also be called the land of spas. Therapeutic retreats are found throughout this Southeast Asian kingdom, naturally emanating from a Buddhist culture accentuating relaxation, wellness, meditation and nirvana. After a hard day elephant-trekking in the jungle, kayaking at Phang Nga Bay or tuk-tuk driving through Bangkok's traffic jams, Thailand's resorts, hotels and urban oases provide spa treatments designed to soothe seething souls and soles.
I recently experienced some of the best Thai spas across the country, from tropical islets to downtown Bangkok's high-rise hustle and bustle.
A true spa resort
There are many resorts around the world that have spa components, but few flip the table to make it a spa with resort components. The upscale Six Senses Destination Spa Phuket, located on Naka Yai Island near Phuket, has done just this however, emphasizing spiritual and physical healing and calming. Wellness director Bryan Hoare says, "This is a spa-centered place quite different from the average resort spa experience. It's a mixture of spa, holistic, fitness and integrated health. It's more than a spa—people come for the wellness experience and destressing."
It's hard to imagine a place better suited for destressing than Naka Yai, where Six Senses is the only visitor venue on an ecological isle inhabited by fishermen and framed by panoramic views of Phuket Island and Phang Nga Bay with its myriad of whimsically shaped limestone islets picturesquely dotting the horizon. Its 61 traditional Thai thatched roof villas with private pools, gazebos and bathroom herb gardens are ideally suited for this environmentally sensitive, tranquil setting that combines Eastern architecture with Western conveniences.
The pristine property's skin care and therapeutic treatments include Thai, Chinese, Indian and Indonesian massage and techniques in the centrally located spa, a mini-village entered through a bamboo tunnel, setting it apart from the rest of the grounds. The spa's Australian nutritionist and naturopath Sally Twitchen begins clients' regimens with in-depth, confidential lifestyle consultations and assessments of their dosha, or mind-body constitution, resulting in personalized wellness plans featuring treatments, exercise, meditation and cuisine.
The spa's Life Passage offerings include a five-night Reawakening Love for couples program, which aims to harmonize their yin and yang, and other programs are specially designed for males, females, seniors and mothers-to-be, not to mention the incredible renewing options. Other available services include the Yang Rising Ritual, which combines meditation, Taoist yoga and fusion stretches beneath the Point Salon's thatched roof, and the spa's Sense of Sanctuary signature treatments, which fuse Thai, Chinese, Balinese and Indonesian techniques.
My solo plan included body buffing for exfoliation; pra kob thai, a traditional herbal massage; a personal training session with a fitness instructor; a soothing oil massage expertly performed by my spa therapist; Indian ayurvedic massage; and nature walks.
Fabulous views, eco-posh cottages, spa treatments and exercise may "heal externally, but not internally," points out food and beverage director Hunter Reynolds, so the spa also caters to internal health with wellness cuisine. The Ton Sai restaurant serves only fresh dishes with many of the fruits and veggies grown on-site, and "mocktails" replace hard liquor, although fine wines are still on the menu. The Point is also one of the rare resort restaurants featuring raw cuisine, living food that is 75% vegan.
In addition to its wellness program, this utopian eco-isle also provides the pampering many crave from spa experiences. In particular, butlers are assigned to each villa, helping to create a five-star enlightenment experience in a natural and sensual paradise the Six Senses Destination Spa refers to as "the seventh sense."
Serene Sarojin
Located about an hour's drive north of Phuket International Airport is The Sarojin Thailand resort on the country's west coast at Khao Lak, which was hit hard by 2004's tidal wave—hard enough to delay The Sarojin's opening. Today, however, there are few, if any, tsunami signs at this edenic enclave on the Andaman Sea. From its reflecting lotus pond to a beckoning white sand beach, the award-winning, 56-unit getaway epitomizes understated elegance.
The highly aesthetic accommodations combine traditional Thai architecture with modern comforts—a complimentary broadband wireless connection, and CD and DVD players, for example—while the bathroom merges with the outdoors. Stone walls and a groomed tropical garden ensured seclusion at my villa, where I swam in a private plunge pool flanked by a lounging salon and terrace ideal for sunbathing.
The resort is named after the legendary Lady Sarojin, famed for her hospitality and the oldest daughter of a Thai nobleman. Living up to the name, I was in equally good hands among the resort's Pathways Spa's eight spa therapists. Unobtrusively situated off the resort's main path and a boardwalk, Pathways is perched above a saltwater estuary cloaked by a palm grove and mangroves. Manmade pavilions, including a Tai Chi and yoga deck on stilts, are harmoniously integrated with nature, and showers adorning trees, discrete baths and double treatment units await the spa-inclined.
My well-trained spa therapist's strong, skilled hands nimbly administered a soothing traditional Thai oil massage on me as I lay on a comfortable table, experiencing the facility's treatment offerings. For more than an hour, her fingers powerfully kneaded and rubbed my muscles as a thunderstorm swept Khao Lak, the cooling rainfall adding to the serene experience that relaxed me completely. Even during a brief lightning-caused power outage, my therapist nonchalantly lit a candle and continued work on my jet-lagged body, providing a massage in which she herself clearly experienced no power failure.
"Pathways takes its philosophy from the origin of spas by Buddhist monks who used the spa as an act of healing," says sales manager Noot Thammatatong. "Massage in Thailand is described as metta, a Sanskrit Buddhist term for an act of loving kindness. Pathways' signature treatment is Faa Fairt Massage, a full body massage created with pure pleasure in mind. It's performed by two therapists working together in rhythmic harmony and is the ultimate massage experience. Sensory indulgence is combined with the healing powers of aromatherapy and tactile therapy, uniquely blending different massage styles: Thai, Swedish, Balinese, shiatsu and Hawaiian."
Holisitic hideaway
Next up was the perfectly named Six Senses Hideaway Yao Noi, cloistered east of Phuket at Yao Noi isle, among Phang Nga's islets. Amidst bamboo, birds of paradise and banana trees, the Hideaway's Six Senses Spa, separated from the exquisite 24-acre resort, sits on a hillside in a traditional Borneo-like longhouse and seven thatched-roof bamboo huts. Treatments such as facials, detoxificiation, manicures, pedicures and chakra baths in milk and honey are all available there, as are Six Senses brand beauty products. The spa also includes a fitness center with steam and sauna options, fulfilling its well-rounded holistic promise.
Ensconsed in the comfort of one of the spa's treatment rooms, my therapist provided me with a fusion massage combining Hawaiian lomi lomi with traditional Thai techniques and oils. For 90 blissful minutes she worked on my body, bending my legs; using her elbows to apply deep tissue massage; and displaying patience, a sense of humor and a command of the English language even as she kneaded my muscles and mind into relaxation, relieving aches and anxieties.
The six therapists and the facility at the Six Senses Spa are overseen by Piyanuch Ketnim, whose massage skills earned her positions at far-flung spas from the Himalayas to the Caribbean to Vietnam. She describes the Hideaway spa's signature treatment as "a fusion combining Thai, thumb pressure, Swedish massage, long strokes, kneading and sports stretch."
She feels giving an enriching treatment is the key to a good experience. Ketnim says the best thing is, "to make guests happy, relaxed, and to get rid of stress. Some guests even cry afterwards."
Another not-to-be-missed element of the Six Senses Hideaway is its exclusive eatery, simply called the Dining Room, perched near a waterfall above a flowing stream visible through a glass floor. The restaurant serves Mediterranean and designed-to-order cuisine, and offers a wondrously unique dining experience.
And from the culinary options to the spa treatments, one flows with the river of life at the Six Senses Hideaway Yao Noi, which—like Six Senses Destination Spa—is managed by the Six Senses resort and spa management and development company.
Capital relaxation
Bangkok boasts beautiful Buddhist temples and palaces, but it is also a crowded, modernized metropolis of 10 million people, traffic and, as Thailand's capital, the epicenter of national politics, including numerous street demonstrations. The good news is massage is such an integral part of Thai life that Bangkok sports numerous bona fide massage shops, such as Prauw Spa, which is located on the main drag of Sukhumvit Road.
There, my massage therapist performed a thorough foot massage, complete with a footbath in the mini-whirlpool of a push button-controlled pedicure tub. After an hour, I was moved upstairs to Prauw's cubicles, where I experienced a traditional oil massage for another 60 minutes, recharging my batteries so I could once again face Bangkok's hurly-burly swirl.
Rejuvenation destination
Thailand's heavenly holistic havens rejuvenate and refresh spirit and body, transporting transcendent spa-goers further down the path to nirvana. After experiencing the pampering and royal treatment of the kingdom of Thailand's spas, to paraphrase His Majesty Bhumibol Rama IX, the country's current monarch, you may even say, "It's good to be the king—or queen!"