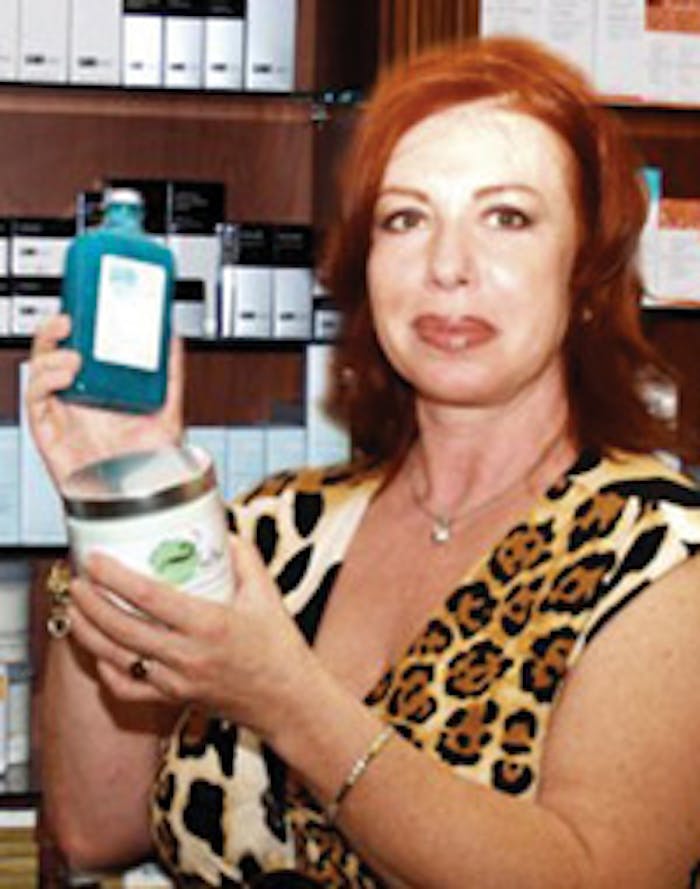 Near the Rittenhouse Square area of downtown Philadelphia sits The Body Klinic, an urban oasis owned by Sophia Brodsky. An immigrant from Russia, Brodsky was 21-years-old when she relocated to Philadelphia with herfamily. Before moving, she worked for a modeling agency in Russia—a position that she says influenced her desire to work in the beauty industry. "Beauty is a part of my life. I always wanted to be in the beauty business."
Brodsky devoted 14 months to earning her certification in beauty and business from a beauty institute in Russia. After moving to the United States, she transferred her certification through an American institute, proving that she had previous experience with the industry.
Her journey to this point—a day spa owner—wasn't a short one, however. She began her U.S. beauty career by renting space in a hair salon, where she offered nail and skin care services. In a 15-year time span, Brodsky eventually came to rent seven different spaces, all of which were located in shopping malls throughout the Philadelphia area.
In 2003, after a successful stretch as an independent contractor, Brodsky made a bold move. She purchased a spa near the ritzy Rittenhouse Square—an upscale shopping and dining district in Philadelphia.
Brodsky says she chose to establish her business in this area because the urban setting allows her to meet the skin care needs for a wide range of races and ages. For example, she is able to help teenagers with acne problems and African-Americans with skin discoloration. Brodsky says she takes pride in knowing that she can help her clients feel less shy about their appearance and more confident about themselves.
"My goal is to incorporate beauty and health services to make people feel good about themselves by improving their appearance," she says. Additionally, she aims to educate her employees about how they can make clients feel more comfortable in their own skin.
Located on the ever-bustling Walnut Street, the spa features body treatments, waxing, makeup applications, nail care, facials, electrolysis, massage therapy and numerous specialty treatments. The Body Klinic also offers a mobile spa, featuring team members who travel to clients' homes or offices to perform services, such as full body massages, chair massages or foot reflexology.
When asked about the challenges she's faced as a spa owner, Brodsky says one difficult aspect is maintaining a solid employee base that is capable of providing every client with a beautiful, calm experience. She also explains that constantly upgrading products and services requires a lot of attention because she tries to deliver the best options to her target audience of upscale Philadelphians. "You have to constantly be in the public eye to create that," Brodsky says. Her clients range in age from 21–50, and her younger customers include some college students.
To help market her products and her services, Brodsky uses her Web site to generate business. She wants her site to be visible to many types of people—travelers passing through the area or someone simply looking for a relaxing spa experience.
In a recent New York Times article, Brodsky was featured for her unique Web presence, and how it's made her a more successful small-business owner. According to the article, about two years ago, a college student walked into her spa and offered to revamp her Web site to generate more business. The agreement was that if the site brought Brodsky more business, the student would receive more money—and he most certainly did.
Currently, The Body Klinic maintains three sites, which are updated every three months, and publicizes new specials. According to the article, Brodsky now brings in nearly $10,000 a month from Web-based sales alone.
When not working in her spa, Brodsky can be found traveling throughout Europe, attending seminars and trade shows to learn new techniques for facials, massages and other treatments. She explained that, in her opinion, American spas take on more of a day spa schedule and those in Germany are of a more "country club" or destination spa variety.
Brodsky would like to add couples massages to her menu, but indicated she would need to have a sunroom that is very bright and sunny. "People enjoy having services together, so we need a special room," she explains. She also hopes to expand her makeup department, which currently features jane iredale mineral makeup.
Not only is Brodsky devoted to making sure each and every one of her clients leaves The Body Klinic completely satisfied with her services, but she also truly wants her clients to learn about their skin and how to take care of it. Her primary goal, she says, is to teach people how to attend to their skin and to answer any questions they may have.
As for future plans, this ambitious, Russian-born spa owner would like to open a second spa within the next year. On a personal level, Brodsky says that through her experiences as a businesswoman, she's "learned to be more careful, diplomatic and patient"—inside or outside the spa.