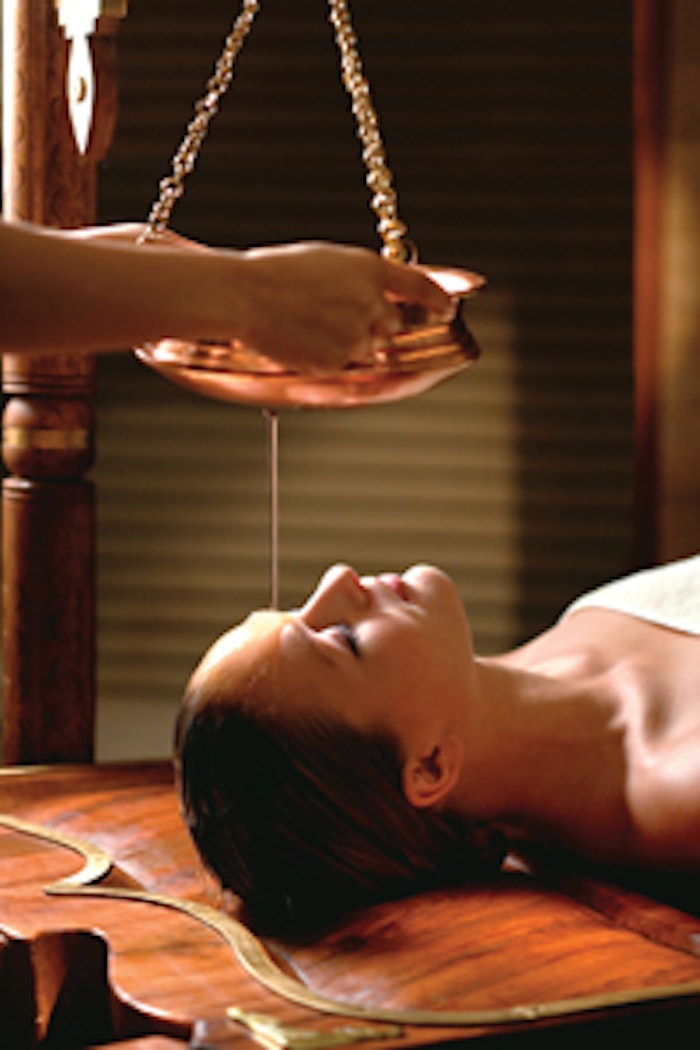 Photo courtesy of the Mandarin Spa and the Mandarin Oriental Hong Kong.
Areas such as Thailand, Hong Kong, mainland China and Malaysia have experienced exploding economic growth among their substantial populations, and, as a result, these places are vital and active. This has created a hunger for new products and luxury, and consequently, the spa business has boomed. Not only have spas proliferated, but they've actually raised the bar for the industry worldwide, developing unique treatments and offering unparalleled customer service.
A round-up of the world's most significant spa trends is just not complete without a tour of Asia, so I packed my bags and boarded a plane headed across the Pacific Ocean. On the agenda: Thailand's Mandara Spa in the exquisite Bangkok Marriott Resort & Spa and the award-winning Mandarin Spa at the Mandarin Oriental Hotel in Hong Kong.
What I discovered in both cities enticed and delighted me. Bangkok, the capital of Thailand, is a steamy tropical city embodying some of the world's most modern elements—gleaming skyscrapers, rapid and efficient mass transit via the Skytrain, and sophisticated shopping and nightlife—alongside countless reflections of the country's rich Siamese heritage. My companion Coty and I rode in an automated rickshaw called a tuk-tuk; visited the golden Grand Palace, which houses the revered Emerald Buddha; and toured Jim Thompson's Thai House, the former home of an American expatriate entrepreneur that doubles as a showcase for Thai architecture and art.
Moving north, the city of Hong Kong is fabulous with a capital F. It's the cosmopolitan gateway to Asian banking and commerce, and is clean, metropolitan, sophisticated and accommodating. The city's harbor, surrounding mountains, temples and quiet park corners offer natural respites and opportunities for contemplation in this bustling, heavily populated city. And for the tourist, there are many affordable options for shopping, dining and transportation.
Just 30 minutes away from the heart of Hong Kong is a seaside oasis with beaches, resorts and waterfront cafés, and, as in Bangkok, Eastern tradition coexists with Western sensibilities. Nearly everyone speaks English in this former British colony, and the city teems with people from Europe, India, the United States and countless other Near and Far Eastern locales.
After observing the diversity and coexistence of East and West and the ancient and modern characteristics in each city, I was eager for my spa experiences, certain I would find insight for and enhance the work and success of spa owners and service providers in America.
Hospitality, culture and mindfulness
The riverfront Bangkok Marriott Resort & Spa in Thailand, often called a "resort in the city," is truly a cool, green oasis in the heart of bustling Bangkok. Just minutes from downtown, it offers travelers every imaginable five-star amenity while the classic Thai architecture, lush gardens and cool river breezes provide welcome tranquility.
The resort's Mandara Spa is one of the many premiere spas run by the Mandara Group in the Pacific Rim area and beyond, and in this location, it's situated slightly apart from the hotel with a private entrance. The spacious, airy décor features a combination of modern appointments, indigenous materials and decorative accents, and treatment rooms with French doors open into verdant, green gardens.
Guests can opt for traditional Thai massage done outdoors by the swimming pool under the leafy shade of tropical trees, or conversely, in spa suites outfitted with two beds, showers, plunge pools, steam amenities, generous supplies of bottled water and even a restroom that offers complete privacy. The spa menu itself encompasses a comprehensive array of body, facial, massage and beauty therapies, with special emphasis on Thai-style massage and beauty processes. There is a spa cuisine cooking program as well that teaches students how to enjoy the Thai spa lifestyle at home.
I chose to receive the Mandara Spa Coffee Body Scrub, the Thai Herbal Facial and the Deep Tissue Massage in one of the spa suites. The service began with the spa's signature Floral Foot Ritual, so to commence my treatment, I was seated in a comfortable chair and offered a special blend of tea as the therapist dipped my feet into a beautifully crafted bowl filled with flower-infused, aromatic water.
My next treatments were performed on a comfortably large bed where I was draped with lightweight linens patterned in beautiful Thai motifs—perfect for the tropical environment. I had a male therapist, which is highly unusual in Asia, but like many therapists in this region, he was cross-trained and cross-licensed, and so performed all of my services himself. And typical of the service-oriented mindset of so many of the people I encountered in this generous country, he told me he started his career as a massage therapist, but continued to expand his training because he loved "healing and helping people."
True to that sentiment, each of my treatments was indeed therapeutic as well as relaxing. The Coffee Scrub is indicated for slimming, toning and reducing body fat, and it features exfoliation with a blend of locally grown Thai coffee beans and natural pumice, followed by a body rub with fresh, vitamin A-rich carrots.
The Thai Herbal Facial for all skin types was cleansing and detoxifying. I choseit because it did not include invasive extractions; instead the focus was on gentler methods of skin balancing. It encompassed a deeply relaxing face, neck, shoulder and hand massage, and a soothing, proprietary herbal mask. I detected lemongrass and ginger in the preparation and afterward, my travel-dehydrated skin was moisturized and revived.
Also ideal for journey's end was the deep tissue massage, which incorporated elements of Thai massage. This method of aligning the energies of the body originates from the time of Buddha, and my therapist adapted many stretching and deep massage techniques to realign my body and release feelings of tension and fatigue. At the conclusion of my treatments, I had the choice of a steam or sauna in my suite—a perfect way to end this blissful experience.
Without question, the most impressive aspect of my experience at the Mandara Spa was my therapist. His skill was remarkable and his versatility allowed me to relax and rejuvenate throughout the entire session in my private suite—the ultimate in relaxation and privacy. And while he had certainly mastered the protocols of each treatment, I never had the feeling he was simply going through the motions. During the hours I spent with him, I sensed he was unfailingly mindful and attentive, constantly aware of my reactions and keenly concerned about my comfort. Like many of the people in this country, his pleasure in serving and caring for others seemed absolutely unforced, and this genuine attitude led to one of the most profound spa experiences I have ever had.
I also feel the need to reiterate the skillful melding of the traditional and contemporary this spa and hotel displayed. From the décor and cuisine to the treatment ingredients and techniques, I felt I had a truly Thai experience, yet with enough Western amenities to make it reassuringly comfortable and accessible.
Elegance, first-class service and results
Next, with its breathtaking location overlooking Victoria Harbour, the Mandarin Oriental Hong Kong has been a landmark at the heart of the city's financial district since 1963, and the first-class facility has claimed an unending stream of awards since the day it opened. The hotel combines the elegance of traditional Oriental décor with sleek, modern design, and attention to detail is unprecedented with rooms offering separate sinks and two-sided mirrors in the bathrooms so roommates can get ready simultaneously. Guests also have a choice of music, slipper styles and terrycloth robes or silk kimonos. There is a wide variety of cuisine to choose from as well, including Asian, French and British, and world-class entertainment in the hotel lounges and clubs ensures enjoyment every night.
The hotel's Mandarin Spa is warm and spacious with rich woods counterbalanced by cool stone and marble textures in its well-appointed treatment rooms. There is an abundance of candlelight, which contributes to the relaxing ambiance, and the Mandarin offers several spacious spa suites that contain two beds, steam showers, vitality pools for hydro massage and changing areas. The largest—the Kukui Suite—offers dramatic views of Victoria Harbour.
The Mandarin Spa philosophy is to merge healing techniques and therapies from around the world—including Chinese medicine and ayurveda—into a potent blend of treatments, ensuring optimal wellness. Understandably, it accommodates a large number of Hong Kong locals in addition to hotel guests and other visitors.
For my treatments, I chose to receive the Choorna Swedam Herbal Bundle massage from the ayurvedic section of the Mandarin's menu as well as the Radiance Facial. Coty joined me in one of the spa suites and also received a Radiance Facial—his first facial treatment ever. Again, the service began with a ritual foot bath, after which I was then settled onto the treatment bed with many inquiries as to my satisfaction with the room temperature, bed position, drape and other factors to help keep me comfortable.
Recommended for muscular discomfort after long travel, as well as physical exertion and sprains, the Choorna Swedam features an herbal poultice bundle containing a blend of proprietary herbs. Two therapists work simultaneously, rubbing the body with ayurvedic oils, and the bundle is then used to release muscle tension with a pounding motion, encouraging the healing oils to penetrate more deeply into the skin. Oils are also placed on the seven charkas to aid balance and detoxification. I noticed immediately after the Choorna Swedam a skin irritation and rash that had been persisting on my shoulder completely disappeared.
Then, from the tradition of the Choorna Swedam, we switched gears into the completely modern modality of the Radiance Facial. Also ideal for travel-weary complexions, this rejuvenating treatment incorporates alpha hydroxy acids for a gentle peeling effect, and the exfoliant and other active ingredients decongest and balance uneven skin tone.
The therapists who worked with Coty and I were not only proficient in technique and service, they also provided us with in-depth education. They explained every step of each treatment—what it was, what it did and what we could expect to feel. This was especially welcomed by first-timer Coty, who was never left guessing on questions such as how long something would be left on the skin or whether or not a product should be stinging.
The education didn't stop there, either. The Mandarin Spa offers guests a wide variety of products for the body, face and home designed to "replicate the fabrics, scents, tastes and sounds of The Mandarin Spa and continue your personal journey to harmony in the privacy of your home." For the first time at a destination resort, my therapist did a brilliant job of educating me about the products used in my treatments. She explained why she used each one, how it benefited my skin and concluded by saying, "You can get these products downstairs to maintain the benefits of what we did today." In addition to the unparalleled luxury of the Mandarin Spa experience, we left feeling enlightened and equipped to continue the work—and pleasure—we had begun in this world-class facility.
Finally, there was a truly tangible takeaway worth mentioning here, as well: Upon checking out, each spa guest receives a Mandarin Spa amenity kit. The men's kit contains shaving cream, a shaving brush, toothpaste, a toothbrush and hand moisturizer, all in a beautiful pouch sporting the Mandarin logo—an affordable and highly effective way to brand your spa business.
A perfect combination
Modern Asian style—whether it's in a spa, hotel, restaurant or shop—is to combine the indigenous with the cutting edge, to seamlessly blend the many cultures reflecting the makeup of that part of the world today. The key ingredient is service—it is attentive, caring, personalized and never, ever just by the numbers. In my experiences in Bangkok and Hong Kong, making every guest and client feel seen, heard, understood and embraced was achieved 99% of the time among service providers, and this worthwhile and important goal is a distinct atmosphere American spas should strive for as well.