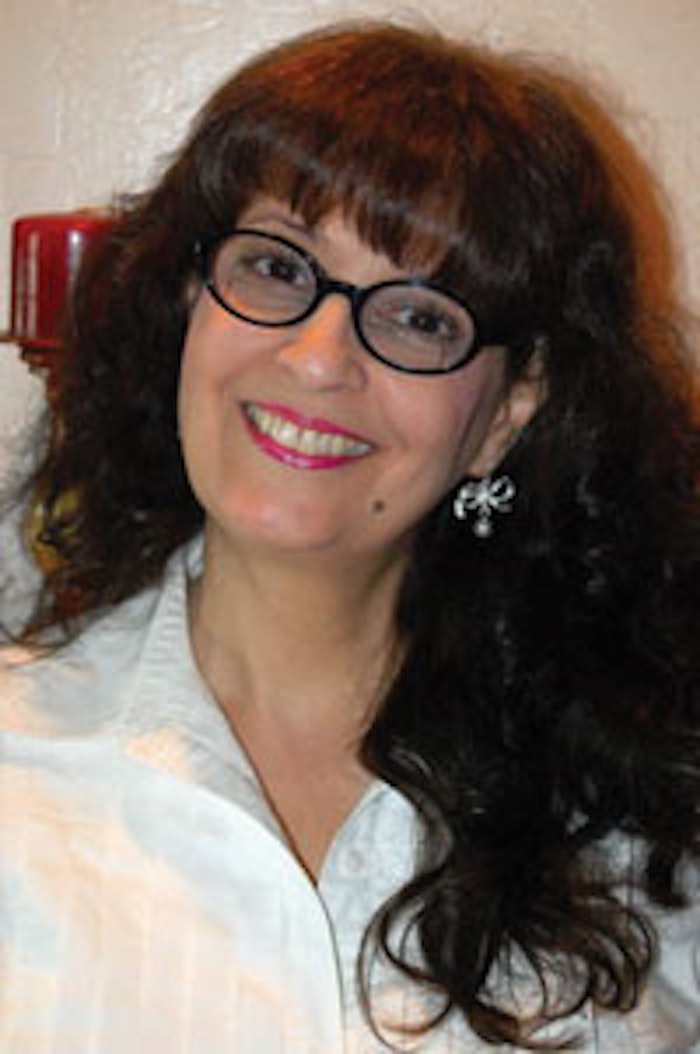 Ellen Thorpe, owner of Aesthetics & More by Ellen Thorpe in Chandler, Arizona, has weathered her share of cloudy days in the skin care industry, and has learned a lot from her journey, which started in 1985. "After I retired from being a professional musician, I wanted to stay home with my two-year-old daughter. However, I discovered that being a stay-at-home mom wasn't good for either of us, so I looked to do something creative," Thorpe explains. As she was falling asleep one night, she recalled the love of makeup application that she adopted while working as a model in the 1970s. "I learned to do makeup quite well out of necessity and thought it would be fun to be a makeup artist," she says. Because she was unclear on the rules of becoming a professional makeup artist in Arizona, Thorpe talked to someone at a beauty counter in a department store who explained that a license was needed. After confirming this by calling the state's cosmetology board, the receptionist also shared an interesting tidbit of information: The state's esthetics license just became available. After calling around to a variety of schools, Thorpe enrolled at the Royal College of Beauty in Mesa, Arizona, and became a member of the first class of full-time esthetic students in Maricopa County in 1986. "When I interviewed the school's owner, I told her my goal was to be the best esthetician in Arizona. She thought that was kind of humorous, but on the last day of class, she told me she was proud that I was a graduate of her establishment and gave me a glowing letter of recommendation," Thorpe explains.
It was with this encouragement that Thorpe began her job search, applying to a variety of salons and getting 10 job offers right off the bat, due to her skill and the novelty of her focus on esthetics. She accepted a position at The Total Touch in Tempe, Arizona, a brand new salon where she built on her esthetics and makeup knowledge by honing her waxing expertise, as well. In 1993, Thorpe was let go from The Total Touch after refusing to push retail sales of a product line that she didn't believe was efficacious.
"It was during this time that my husband encouraged me to step out of my comfort zone, so on May 27, 1993, I opened the first Aesthetics & More by Ellen Thorpe in Mesa, Arizona," she says. Taking approximately 75 clients with her during the transition, Thorpe moved into the 900-square-foot space with an office, a waxing room, two facial rooms and a reception area. By her fourth year in business, she had a waiting list that was four pages long. However, in 2004, Thorpe had to close her business because the landlord of the building she was renting from allowed a competing business to move into the same building, six doors down. "I was struggling. People were moving south where all the businesses and homes were new. Bringing in clients was harder than it used to be, and I knew I couldn't continue on the road I was on," says Thorpe, who had also developed fibromyalgia several years earlier.
Thorpe then started working in an esthetics room at David & Friends, a salon in Gilbert, Arizona, where she stayed for several years, eventually leaving because the salon atmosphere was too noisy to coexist with her esthetics area, and the commute was challenging. After discovering the construction of a new salon boutique five minutes from her home, Thorpe's second incarnation of Aesthetics & More found a new home as the first of 44 suites in an upscale boutique salon mall, a business that houses a variety of beauty professionals under one roof. During her journey, Thorpe has learned many things ... including how to scale back. "Ask yourself how much you need and how much you can afford. If you're offering a huge menu of services, you have to look at the cost of each service and how much you are losing buying products and accessories," shares Thorpe, who works with two lines in her business: Murad and SkinSync. Thorpe is also no stranger to getting the word out about her business, and relies on a quarterly newsletter, Facebook and her website to market her services and products.
Her newest venture is a focus on oncology esthetics, having created the Rhonda's Hope program in honor of one of her clients who suffered from ovarian cancer. "If a person is suffering from any type of cancer other than skin cancer, you can get one facial per month from me at half price," explains Thorpe.
"For me, doing skin care is more than just taking care of someone's skin; it's like a ministry to me," she explains. "When someone comes in, sometimes her skin is not the most important thing that needs to be taken care of. That's where the name 'Aesthetics & More' came from." And it is this "more" that helps Thorpe persevere in an industry that isn't very economically forgiving—however, she insists it's not about money. According to Thorpe, "Money can't buy the feeling of gratitude I get when someone says, 'Thank you for taking care of me.' "