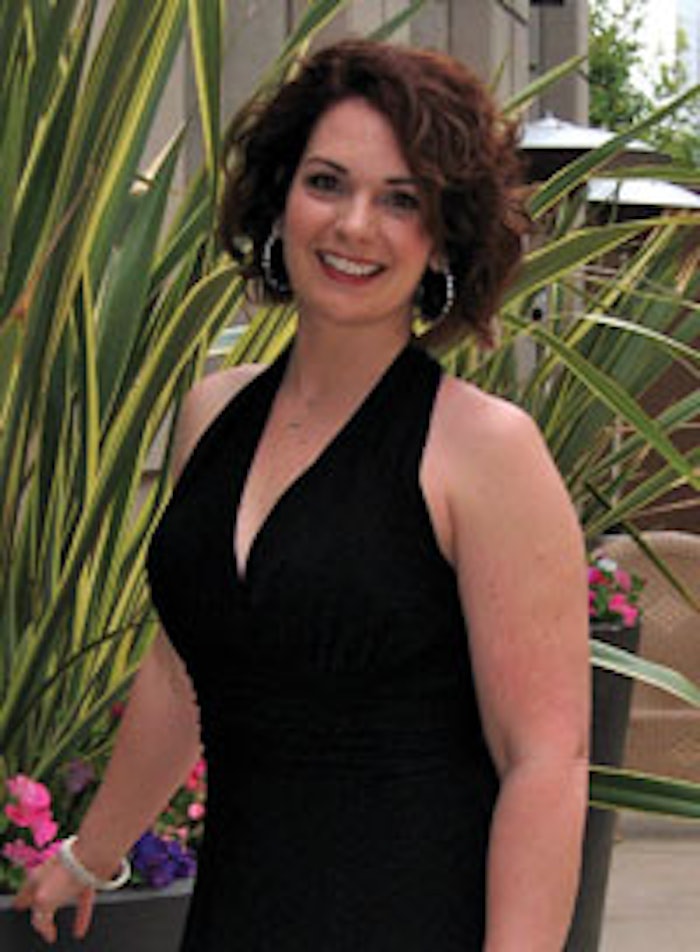 With her bubbly personality, remarkable skin care knowledge and business sense, and background as a professional dancer, it's no surprise that Jersey girl Michelle Bouse ended up with a skin care facility located right in the heart of Hollywood magic. Growing up on the East Coast, Bouse always dreamed of becoming a professional dancer and, although she earned a scholarship to Katherine Gibbs Business School in Montclair, New Jersey, she left her business studies when she was invited to perform in a traveling production as a professional dancer. "I always wanted to be a dancer and never wanted to look back and wonder 'what if,' " says Bouse.
Soon after she finished working with that production, she met her future husband who was offered a job in California, so she found herself moving across the country. "I was dancing in theater out in California, and I was getting disheartened," she says. On the lookout for something different, Bouse zeroed in on her talent with her own makeup. At that time, her then-boyfriend was transferred to a job at NBC in Burbank, and she found herself studying at Make-up Designory (MUD) in the same town. "I got into makeup school in 2000, and ended up becoming an instructor at MUD. I taught there for three years," she says. She became certified in esthetics in 2005, and also became a television studio makeup artist and was renting a room in a salon, which was where she discovered her favorite medium: eyelash extensions. "The woman who owned the salon took an eyelash extension course and decided she couldn't do it ... it's not for everyone ... and told me I should do it because I was a makeup artist. She gave me the kit and, by accident, I started doing eyelash extensions and loved it," Bouse explains. She got certified in 2006, and in 2007, American International Industries came calling, looking for trainers. She soon became the global master artist for the Lash beLONG brand, and still teaches for the company from time to time. With this position, Bouse got to travel throughout the world to train on the product and application.
After getting her fill of the traveling life, Bouse decided it was time to use her technical skin care and makeup knowledge and her business sense to open her own facility. In 2008, she opened Beauty Boutique, right in the heart of the Toluca Lake neighborhood in Burbank. According to Bouse, 80% of her base is eyelash-extension clients, as that is her niche, but those clients tend to stay for esthetic services and facial waxing as well. "They want everything done here and they want it as quickly as possible. I'm near all the studios, and everyone comes over on their lunch breaks, but I am able to transition them to facial clients, as well," says Bouse, who uses, Advanced Mineral Makeup, Cirepil, Clean + Easy, Epicuren, Lash beLONG, Lash FX, NovaLash and Outlashe in her facility. Although she admits she has room to improve in the retail department, Bouse believes the best way to sell in the spa is to provide a trial of the product or use it on the client during the service.
She is a huge advocate of online booking. "My online booking software from Mindbody has everything on it. I have a mobile program on my phone, and it keeps track of tallies, services I'm doing, tips and tax information, and people can book their own appointments online. I wouldn't be as successful if I wasn't online," she says.
One of the main parts of Bouse's business is her charitable efforts. Along with her work training a dance company through the Boys & Girls Club of Burbank and Greater East Valley, where she recently earned a seat on the board of directors, Bouse also highlights a different charity every two months in her facility, offering a variety of opportunities for clients to give to a charity. From Autism Speaks to breast cancer awareness to the local animal shelter, Bouse wants to help them all. "If people are going through something in their lives, they are going to feel better if they help someone who has it worse. It's not automatic, but when they see something in the spa, it reminds them that they want to give good will and help the community," she says.
Her beauty career, says Bouse, is the icing on her cake. "I've been so fortunate. I was a dancer, that was my cake, and this, although it's my second—and more successful—career, is just amazing icing on that cake." It is with this gracious and generous attitude that Bouse travels into guaranteed happiness and future success in the skin care industry.