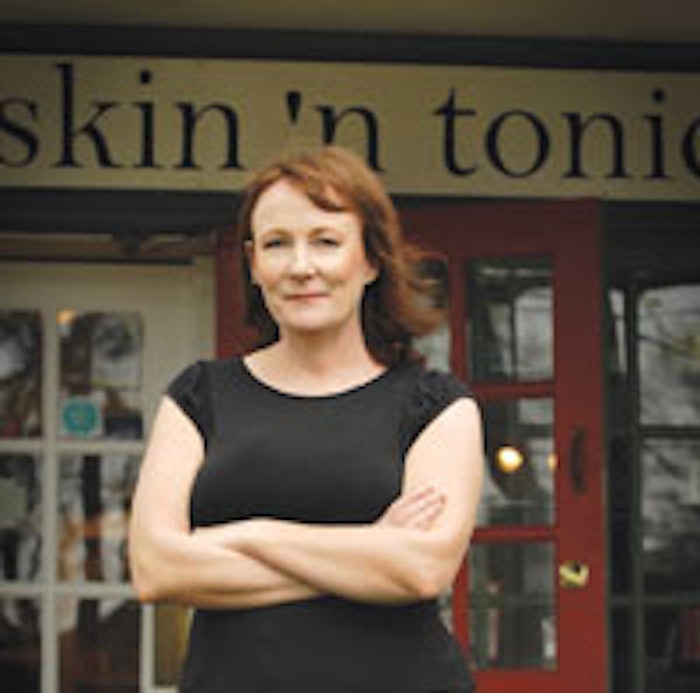 When she was growing up, native Australian Kerian Bray never even considered seeking a career in the beauty industry. In fact, it was only through the guidance of her mother and sister that she went to school for beauty therapy where she studied nails, body work and skin care, completing her certification from the Confederation of International Beauty Therapy & Cosmetology (CIBTAC)—an international beauty certifying body—in 1981. It was during this time that Bray embraced her calling.
"It's an amazing profession; you can do so much with it," she says ... and do so much she has. While in school, Bray also studied theatrical and special effects makeup, leading her to work in the Australian film industry. "I couldn't see a career in that, though, so I came back to beauty therapy," explains Bray, who opened her first skin care business in 1986. After four years, she decided to move from the West Coast of Australia to its East Coast, where she opened two smaller skin care businesses. While operating her businesses and working with Australian artists and entertainers she met during her stint in the movie industry, an opportunity presented itself to Bray in 1995: to move to London and work as a trainer for skin care giant Ella Baché. It was also during this time that Bray met her future husband in Australia—he was an American.
Never one to be tied down, Bray sold her spas, moved to London and found herself traveling throughout Europe for her job. "We dated around the world, passed each other in cities and eventually decided that it was more convenient for us to get married so we would see each other more often," she explains. In 1996, Bray moved with her husband to his native America and she continued working for Ella Baché as a trainer, only this time on Madison Avenue in New York City. Soon, Bray changed jobs and found herself working as the director of education and training for Décleor USA. The travel requirements of this position, along with her 90-minute one-way daily commute, took its toll.
Bray soon decided enough was enough, and after taking some time off to rest, she became the spa director for a new concept—a spa in Doylestown Hospital in Doylestown, Pennsylvania. "I opened the spa for them and managed it for a couple of years, and then an opportunity presented itself to go back into supplier education," says Bray, who next became the director of education and spa development for Dr. Dennis Gross Skincare.
When Bray's mother passed away, she began to question her current situation. "I thought, 'I don't want to keep killing myself. What am I striving for?' " It was then, in 2005, that Bray opened Skin 'n Tonic, located 10 miles from her house in a colonial destination called Peddler's Village in Lahaska, Pennsylvania. She earned her U.S. certifications by transferring her Australian credits, and is licensed in esthetics and cosmetology in New York, and in esthetics in New Jersey and Pennsylvania.
"I like being in the treatment room; that's my biggest enjoyment," says Bray, who recently became certified in oncology esthetics. "Because I am certified, I work with a lot of people who are going through treatment and who are survivors, or stage-four cancer patients who aren't yet in hospice. One of my team members is certified in cancer massage, too." When it came to embracing this new specialty in esthetics, Bray says she recognized the lack of skin knowledge for cancer patients while caring for her sister-in-law who passed away from the disease. "This made me realize there was a big vacuum in a growing area. The medical industry addresses everything except skin, which becomes sensitive and wounds easily," she says.
Education is not only something that Bray relies on for herself; she also works to educate her clients, using analogies and comparisons to help her clients realize how their skin problems originate and what types of products and treatments they need to help their skin. "We retail through education," explains Bray, who uses Phytomer and PCA Skin, and says her retail-to-treatment ratio is very high. She works to gradually incorporate a new products into clients' routines to help them get comfortable with the products, and only offers one additional product recommendation per appointment. "I don't force product onto people. I do a little sampling, tell stories and give analogies, and make sure they understand. Long ingredient names mean nothing to a person on the street," she says.
Her ability to teach and relate to clients is not only a skill, it is also something she enjoys doing. And education is something she wants to continue doing and supporting in the professional skin care industry.