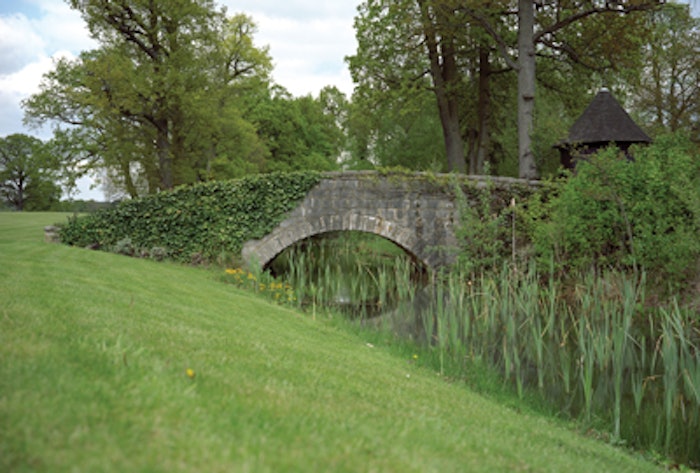 The global landscape has always been an inspiration to the spa industry in the United States. Whether it is through indigenous treatments, artisanal products, unique design or enticing menu offerings, spas throughout the world serve to enlighten and intrigue spa owners and clients alike. Following are just a handful of spas—many of them new—to supply inspiration to you. As you visit each of these one-of-a-kind dots on the map, ask yourself what you can learn from each facility. Perhaps you can take a closer look at the sustainable example of The Spa at Coworth Park in England, and decide if you are ready to take the next step toward being a green spa. Or check out The Tamarind Spa in Barbados, The Spa at Blythswood Square in Scotland and The Finisterra Spa in Portugal to find out their different takes on indigenous treatments, and ask yourself how your spa can embrace its roots and create an experience that is completely unique and enlightening at the same time. Discover how Holmes Place Spa in Switzerland is using the spa to take fitness to a new level for both locals and members, and think about whether fitness will play a role in your spa's future development. Examine how facilities such as Spa Matilda in Mexico and The Claridges Spa in India are enhancing the part retail plays in their profitability. Taking the next step in your domestic business often means looking beyond your own backyard into the international spa landscape for ideas that awaken your creativity, passion and business sense ... let that journey begin today.
The Spa at Coworth Park
Ascot, Berkshire, England
+44 1344 756 756
spa.coworthpark@dorchestercollection.com
Luxury hotel operator Dorchester Collection recently opened The Spa at Coworth Park at the Coworth Park hotel, an eco-luxury spa. Built over two floors, the spa is partly submerged into the landscape. The upper floor has eight treatment rooms including two doubles, a manicure/pedicure area and relaxation rooms. The ground level includes an indoor pool featuring underwater music, and also offers a large health and fitness suite and a sun terrace. The facility is set against a landscape of tall cedar trees and lets in natural daylight while providing views of the location's Royal Berkshire parkland acreage. Staying true to its contemporary eco-luxury setting, The Spa at Coworth Park features carbon negative hemp walls with natural lime to provide thermal and environmental performance. A Living Roof of plants and herbs, such as chamomile, lavender and thyme, reduces solar gain and increases the building's insulation.
The Tamarind Spa at Tamarind
Paynes Bay, St. James, Barbados, West Indies
888-996-9948
The spa opened in November 2010 on Barbados' West Coast to coincide with the reopening of the Tamarind hotel. Created by Elegant Hotels, the spa features two treatment rooms, a spa pool and a team of therapists who use local ingredients, such as Bajan sea salt and Barbadian Moscovado brown sugar to create a wellness experience for each client. An example of this focus on indigenous is the Sugar and Oil Scrub treatment, which mixes Barbadian Moscovado brown sugar with Tamarind's signature oil to remove dead skin while repairing dry, damaged areas. The scrub is followed by the moisturizer or oil chosen by the client.
The Tamarind Spa in Barbados, West Indies, creates indigenous experiences using local ingredients such as Bajan sea salt and Barbadian Moscovado brown sugar.
Holmes Place Spa in Holmes Place Health Club
Zurich, Switzerland
+41 44 215 2420
The first Holmes Place Spa recently opened within Holmes Place Health Club in Zurich. The facility's interiors feature accents of cool stonework and natural wood. A wide range of treatments are offered, along with a sauna, steam baths, a whirlpool and relaxation areas. Also within the spa is a VIP spa suite, a scented mist walk, an herbal bath, an ice fountain, experience showers, a silent relaxation room featuring four water beds and a drinks lounge. The spa is meant to complete the fitness and wellness spectrum offered by the fitness club, staying true to the facility's philosophy: "One life. Live it well." When developing the concept, the facility considered the needs of its target audience, complementing the idea of holistic health and fitness, and believes that Holmes Place Spa offers an ideal solution. "The central location and the comprehensive range are appealing and fitting in a spontaneous visit or a beneficial wellness treatment after work. It is also an ideal addition for members of the fitness club," says spa manager Charlotte Taylor.
The Claridges Spa at The Claridges
Surajkund, India
+91 0129 3048999
Claridges Spa at The Claridges in Surajkund, India, spans two floors within the hotel and includes 10 spa suites, beauty stations, wet facilities and a fitness area. It offers more than 30 therapies and treatments. Inspired by the ancient Indian baoli, or "reservoir" in concept and design, the facility focuses on offering holistic wellness and therapy. Ayurvedic doctors, therapists and wellness professionals are on staff in order to customize clients' experiences. The facility also features a beauty salon, a yoga and meditation studio, a fitness zone and a lifestyle boutique providing a variety of products for retail, including international skin and body care items, as well as candles, tea, loungewear, bathroom amenities, books and music. Inspired by fire and water, the spa offers ancient and modern Indian- and Asian-inspired heat and water services that ease the body and relieve the mind.
The Spa at Blythswood Square
Glasgow, Scotland
+44 0141 240 1622
Covering 10,000 square feet, The Spa at Blythswood Square features a hand-blended range of indigenous Scottish treatments using artisan ingredients. There are nine treatment rooms, including a double suite; a thermal suite that includes a series of rooms designed to take the body on a wet and dry, warm and cold temperature journey; a relaxing lounge; a café; and additional relaxation areas. The spa's unique menu includes its signature treatments, or turus, the Gaelic word for "journey," that feature Scottish ingredients such as milk thistle, cedarwood and juniper oil, organic seaweed and sea lavender, to provide relaxation and renewal. Another standout offering is the Dreamtime Journey that helps clients re-connect with tranquility and release tension. The experience begins with a mantra, and includes a dreamtime scrub that soothes and restores the lymphatic system, a chakra massage that restores the nervous system, leaving it at peace, and a dreamtime facial that promotes deep relaxation and supports the natural process of cellular rejuvenation using ingredients such as fresh royal jelly and orange blossom.
The Finisterra Spa at the Martinhal Beach Resort and Hotel
Sagres, Portugal
+351 282 240 200
The Finisterra Spa draws on the area's natural surroundings to nurture a distinct sense of place, harmony and well-being, combining colors from the environment with organic textures. With six treatment rooms, a wet area with sauna and steam bath, a relaxation area and an interior garden, the spa inspires a meditative atmosphere with a feeling of warmth and tranquility. Deriving inspiration from the spa's physical location as well as the area's seafaring history, the spa's menu includes a selection of massage, rituals and treatments with their roots embedded in the Age of Discovery and the establishment of the spice route, a quicker maritime route to access spices from the Indian Ocean area. The culmination of this inspiration is the spa's six signature rituals, based on the travels of the most famous Portuguese explorers and their encounters with various continents and cultures. For example, the Vasco da Gama Indian hot stone treatment was named after the first navigator to discover the sea route to India, and features heated red jasper and semi-precious stones that help remineralize the body and release muscular tension.
Spa Matilda at Hotel Matilda
San Miguel de Allende, Guanajuato, Mexico
+52 415 152 1015
Spa Matilda's focus is to help clients embark on meaningful journeys of renewal and well-being characterized by experiences that encompass a wide range of globally inspired therapies infused with local flavor, culture and context. The spa's menu includes both traditional and innovative therapies, beauty treatments, fitness services and wellness offerings, and works to take into consideration personal goals and unique lifestyle factors. Integrated wellness experiences include Decompress, Recover, Energize, Focus and Radiate to correspond to individual needs, goals or states of mind. The charms and indigenous healing traditions of the region are showcased within the spa's Apothecary, featuring hand-blended treatments and retail products composed of locally procured artisanal ingredients. The 4,700-square-foot facility is set in an intimate, tranquil garden ambiance featuring indigenous flora and an original artistic piece by Angelo Musco, featuring a spider's web of human figures that signify the relief of human stress and tension at the spa. Featuring a modern and sensual reinterpretation of local design and traditional materials, the spa includes four treatment rooms; a wellness studio; a private luxury spa suite with a meditation garden, lounge and personal facilities; sitting areas; and a fitness facility.