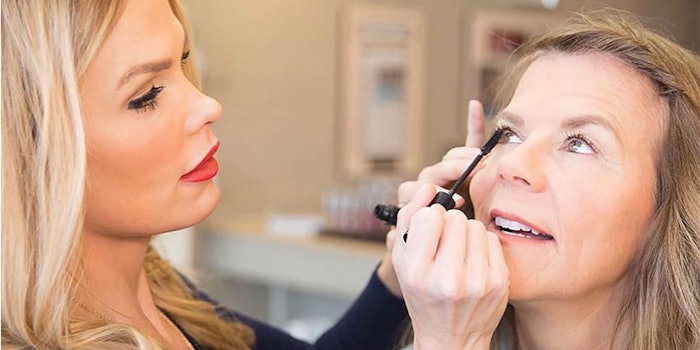 Many say, "beauty is more than skin deep," but it is the mantra of Jaclyn Peresetsky, owner and CEO of Skin Perfect Spas, Skin Perfect Academy and Colore Me Perfect Cosmetics & Analysis. After she entered the world of skin care by chance, she has made it her life's mission to make sure clients know that great skin encompasses the whole package. This belief led her to marry wellness and skin care in two spas, to put her art education to the understanding of makeup and skin and to open a skin care school. Skin Inc. sat down with Peresetsky and learn how she triumphed over defeat, what wellness means to her and why she feels an esthetician's eyes are their greatest tool.
Skin Inc. (SI): How did you get started in the industry?
Jacyln Peresetsky (JP): I decided to become an esthetician after working part-time for Clinique. I was in the Columbia College Art and Design program focusing on portrait artistry, and I wanted to work for Disney someday. I just did Clinique as a fun part-time job, but I turned out to be actually quite good because I understood face shape and color. When I went to work, I didn't have to work hard, it was almost intuitive. Working with people, talking with them about their skin and working on their makeup was what I was born to do. It was 2002, and no one was really talking about esthetics. I kept researching and finally found that there was a school that you could go to and be a professional. At the time, makeup was really great for me because of my art school background. I went into esthetician school thinking makeup was my thing, and I started falling in love with skin the more I learned.
SI: What were some of your first jobs out of school?
JP: Out of school, I got a job working for Aveda as a creative director, and I also was working for a spa as an esthetician. I really had no idea what I was doing; it was so new to me. I was great at selling retail and that was easy, but understanding the "why" was hard. After working for Aveda for a year, I decided to rent a room in a salon. I could not even fit carts in the room; it was like a closet. With that business, I hit every wall possible. At this time, people did facials for birthdays—more for fun. It wasn't the time where people took their skin seriously.
Continue reading our EXCLUSIVE interview with Jaclyn Peresetsky in our Digital Magazine...