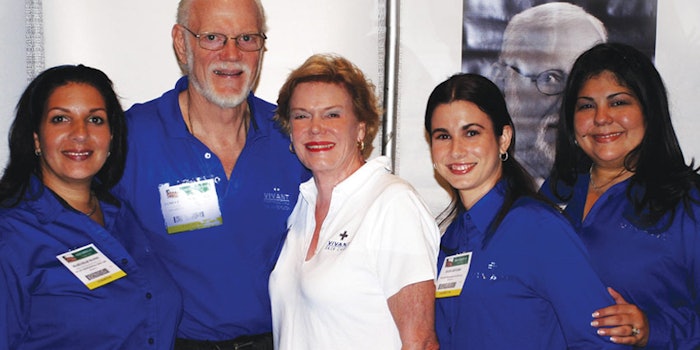 Acne is one of the most common skin disorders in the world, with 90% of the world's population fighting it at some point in their lives.1 When it comes to pioneers in the field of acne research and treatment, Sara and James Fulton are at the top of the list. James Fulton, M.D. was one of the inventors of Retin-A (tretinoin), and he and wife Sara Fulton, took their acne battle further to start Vivant Skin Care, establish some of the first acne clinics in the United States and open an acne research institute. James lost his battle to colon cancer back in 2013, while Sara Fulton died June 2019 after complications following a surgery.
Skin Inc. (SI):How did James and Sara get started in the industry?
James Fulton III (son): James Fulton was tormented by acne from a young age. He tried every treatment known to dermatology at the time—sulfur drying lotions, tetracycline antibiotics, ultraviolet light burning, freezing with dry ice, painful extraction, x-ray treatment—with no improvement. Feeling the medical community had failed him, he set out to become the foremost acneologist to help others avoid what he'd been through. He went to medical school and, as a young intern, found himself working with Albert Kligman, M.D., who gave him a bottle of retinoic acid and asked him to try it on psoriatic patients. He decided to try it on acne. The results of that work became Retin-A®, and his career was launched from there.
Sara Fulton earned a double major from Drexel University in anatomy and physics. She was teaching anatomy to nursing students at the University of Pennsylvania when she met James, and became a guinea pig for his retinoic acid trials. When James was recruited by the University of Miami to start an acne clinic there, Sara went along and worked with him doing research in the dermatology department.
SI:What did they enjoy most about esthetics?
James Fulton III: Aside from the great satisfaction of helping people overcome acne and other skin issues, both James and Sara loved educating. They spent a great deal of time working, training and mentoring estheticians. It was actually James who first had the idea to bring estheticians into the dermatology office. They also really enjoyed their office hours with patients.
"[Sara and James] taught me to be inquisitive...[and] they had a hand in teaching me the importance of a strong work ethic."
SI:Who were some of their greatest mentors?
Susan Fulton Arregui (daughter): Kligman, with whom James co-developed Retin-A®, was his first great mentor. Harvey Blank, M.D., who founded the dermatology department at the University of Miami, and Sung Hsia, M.D., a prolific researcher and professor of dermatology at the University of Miami, were also very important in James' career. My mother's greatest mentor was her father, who was the head of surgery at Philadelphia Methodist Hospital. As a little girl, she would accompany him on his rounds on Saturday mornings, and sometimes she would watch as he performed surgery.
SI:What were some of your most memorable moments with them?
Susan Fulton Arregui: I can recall my dad doing sunscreen patch tests on the shoulders of my siblings and I when we would go sailing. My mother loved creating lavish family gatherings whether it was for Christmas, Easter, birthdays, etc. She loved decorating extensively and making everything seem monumental. Because she and my dad worked so hard, I think she liked to make those family times extra memorable.
SI:What did they like to do in their free time?
SI:Was there anything you learned from James and Sara that you still use today?
Sara Fulton Arregui: They taught me to be inquisitive. Also, they had a hand in teaching me the importance of a strong work ethic.
SI:How did Sara get her nickname "The Bee"?
Richard Arregui (son-in-law): I coined the nickname when I first met Sara. It came from the fact that she was always busy and full of energy. Other variations grew from it: Queen Bee, Grand Bee, etc. She was the center of the hive.
Reference