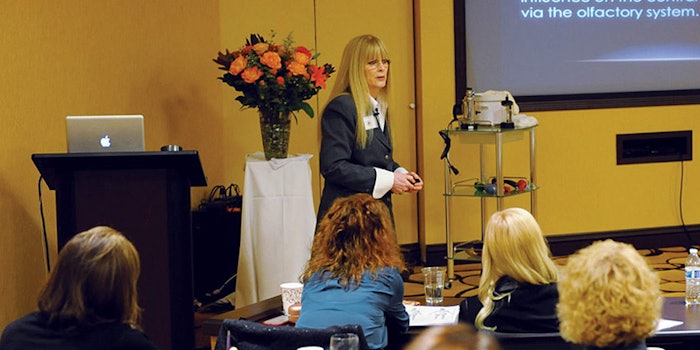 We have come to realize in the last few decades that what we see on the skin is often a reflection of what is happening inside the body. This notion has led countless estheticians to broaden their education to include more physiology and nutrition, with some pursuing holistic esthetics and naturopathic credentials. Dr. Erin Madigan-Fleck, N.M.D, is one such esthetician. Although her journey started in makeup artistry, it took a drastic turn when she investigated traditional Chinese medicine (TCM) as a solution for acne. Today, she is a champion for holistic esthetics, a highly sought-after educator and one of our prized advisors.
Skin Inc. sat down with Madigan-Fleck to learn more about her beginnings, her constant pursuit of knowledge and why she believes what was once old is new again in skin care.
Erin Madigan-Fleck (EMF): While looking at cosmetics in Macy's, I was approached by a scout from Shiseido cosmetics. A year later, I was traveling with them as a national promotional makeup artist. My career as a makeup artist spanned over 22 years with many wonderful experiences and over 20 awards in national and international makeup competitions.
Throughout this experience, I learned how important skin condition, texture and clarity was to render the technical requirements of makeup for photography and video. I expanded into the esthetics arena, where my training was in the classic European esthetic approach with Madame Nelly De Vuyst, Sylvie Hennessey and other esthetic pioneers from the 1980s. Esthetics rapidly became the thrust of my career and passion. I was offered a phenomenal opportunity at one of Atlanta's prominent plastic and reconstructive surgery centers. Many years later, I realized I wanted to be an advocate for higher education in esthetics. With this gift and privilege, I have been fortunate to teach well over 3,000 students at the primary and post-graduate levels of esthetics for over 30 years.
SI: Who are your biggest mentors?
EMF: Firstly, my biggest mentors would be my parents. They instilled and continually exemplified the virtues of respect, kindness and compassion. They taught me that life was full of opportunities, and our lives were our responsibility along with our choices and actions. I forever thank my dad for igniting my insatiable appetite for academics.
SI: What was one of the biggest lessons you learned?
EMF: Follow your instincts, be true to yourself, expand your comfort zone and develop the art of listening. Keep motivated, keep moving and do not let grass grow under you. As my mother would advise, life is not a dress rehearsal–make every day count.
SI: What inspired you to combine naturopathy with skin care?
EMF: This was a huge turning point in my career. While working at the plastic surgery clinic, I met a young teenage client who came to me as a last resort for her acne. All the traditional applications and recommendations had been exhausted with little relief. I grew frustrated and wanted a conclusion as to why none of the traditional medicines and treatments were working. I started to look at traditional Chinese medicine (TCM), recalling that my dad had experienced success with his eczema after receiving acupuncture. I had contacted and spoke with a TCM physician who introduced me to the concept of naturopathy. Within a few weeks, I was attending the very first Alive Holistic Expo in Atlanta. I ended up meeting with one of the most sought-after naturopaths in the south who not only listened carefully but personally encouraged me enough to pursue a naturopathic degree and insisted that I intern at the largest integrative medical clinic in Atlanta. As I began to study holistic nutrition and biochemistry, the parallel between skin health and nutrition was a given, credible and through my experiences, effective. It is a main focus in my practice, and we educate clients continually about nutritional choices and bio individuality.
SI: What is one of the biggest changes you have seen in the skin care industry?
EMF: I would say the influx of technology. I particularly appreciate the evolving aspects of sciences, chemistry and devices in esthetics today, yet I support the traditional mindset and approaches for esthetics should always be utilized as necessary. I also think that quality continuing education is a vital component to the integrity of our profession. We are at a turning point in our industry and returning to discipline, ethics and education is the legacy that should be carried on to new estheticians.
SI: What trend(s) do you see entering the spa industry?
SI: What do you enjoy most about the spa industry?
EMF: It is ever-changing, evolving and always offers endless opportunities. I also love attending the trade shows to see trends, innovations, advances in technologies, products and of course network, attend lectures and socialize. As an instructor, and evaluator of skills, I think it is important that all estheticians attend trade shows and classes regularly. Hands-on training is vital to keep our hand skill levels and skin assessment aptitude at its best.
SI: What has recently been inspiring you?
EMF: Naturally, I've been inspired by the popularity for holistic approaches. However, training quality is important as not to misconstrue authenticity from the original concepts that these techniques originated from. Holistic approaches should not be adopted as a "trend" but a staple philosophy in esthetics. The practice of esthetics was always holistic in nature. The use of massage, natural products, lymphatic drainage and other modalities are actually aspects of naturopathic philosophy. The key is to present these modalities in context of skin care and wellness for esthetics, and not infer medical treatment as to interpret a claim, be construed outside the of scope of practice.
SI: What advice would you give someone starting out in the industry?
EMF: Most importantly, accept that there are no short cuts to success–hard work, dedication, paying attention to detail and diligence will pave the way. Strive to make well informed decisions and fully research the topics regarding all aspects of business, equipment and product purchases before taking a plunge. You must be dedicated to learning constantly, as our industry is always changing, and your clients will view your knowledge as experience. Be objective, compassionate and try to keep an open mind.
SI: What is one of your biggest accomplishments?
EMF: I would most definitely say receiving my doctorate in naturopathic medicine. Another big accomplishment for me would be becoming a member of the advisory board for Skin Inc. magazine!
SI: What inspired you to start educating on skin science?
EMF The more I learned about sciences myself through personal research, the more I became inspired. It game me the desire to create the pathway to share my discoveries about the skin, health, anatomy and anything that I could decipher to help estheticians, the industry and, of course, my clients. As estheticians, we are in a position to help clients with their skin much more than has been experienced during our school training. As an esthetic instructor, I realized this opportunity and the great need to raise the academic bar in esthetic education and have the desire to continually educate others and pass on what has brought myself such enrichment and enjoyment.