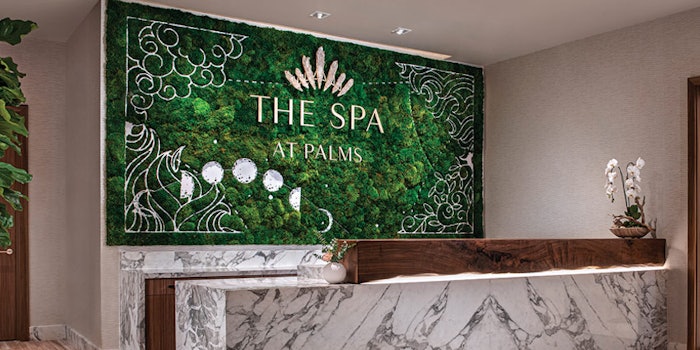 While a lot can fall under the wellness umbrella, The Spa at Palms is putting a new twist on it with their focus on energy. Not only was the spa designed to promote better energy, but it incorporates energy work into its treatments in unique ways and even hires its staff based on their energy.
Skin Inc. was fortunate to be among the first to experience a treatment in the spa, and we were able to dig a little deeper into just how far The Spa at Palms takes wellness while talking to Brandy Ashford, manager and retail director of The Spa at Palms. See what Ashford had to say about their approach to positive energy, her research into clean skin care and how the spa plans to use astrology to promote better client wellness.
Skin Inc. (SI): How did you get started in the industry
SI: How do you create outstanding service?
BA: I do a lot of research, visit a lot of properties and incorporate a little bit of everything I learn from doing this to try and create moments that haven't been done before. This is how [the team] created the crystal experience throughout The Spa at Palms.
SI: What is your most unique treatment?
BA: One of our very unique services is our Tarot card and Chakra Balancing service. We are bringing the two of these together to have the therapist provide you a tarot reading and explain what the therapist is reading from the cards while also balancing the client's chakras. This is a much more spiritual based treatment. One of our big components is mental and spiritual wellness.
SI: How are you planning on staying competitive with other spas in Vegas?
BA: I think being on this specific property will help a lot with the competition. I also think when we create these experiences that are unmatched and can't be found anywhere else, that will help us stay relevant. We are also a social spa, so we are going to encourage socializing, networking and social media.
SI: How have you been marketing your spa prior to its opening?
BA: We plan on being social media heavy. This property has a lot of celebrities and unique suites, so I think the exposure to those high-end guests will help with marketing.
BA: There was a team of us that worked on this. We worked on every single detail of this space; we wanted it to feel light and airy. When you are resetting energy, you want it to be a light space, so the stone, wallpaper and floor are all light tones for that reason. The flowers in the floral designed were hand picked by Kelly, our VP of marketing and guest experience, and I. This is Kelly's lifestyle and vision, so we created the spa around her concept.
BA: We are doing a whole month of training. We had each vendor that created a service come out and go over the service, treatment and products. We are taking our time to provide the right guidance on service and product knowledge as well as taking extra care to educate our staff on the different crystals and what they mean.
SI: How did you hire your staff?
BA: We hired a lot of people based on their energy. We would look at how calming, friendly and approachable each person was because we can't teach that. There were roughly 280 people we interviewed, and we selected about 60. We wanted to make sure we had a diverse staff as well, but hiring them was based on energy, passion about spa and guest service.
SI: How did you craft your spa menu?
BA: We spent about a year crafting the menu. We did a lot of research and collaborating. We would discuss services that we loved and how we can make them our own. We also partnered with the brand partners we are working with that already had treatment protocols, and we would add or subtract from what they already had to incorporate our crystal healing.
BA: We are very conscious of what we put on our body. We've done a lot of research on non-toxic brands and products that we could incorporate into our spa. It all ties into the wellness element of the spa, and putting harmful chemicals on your skin is more damaging than putting them in your body. We wanted this to be a true experience, so almost every product that touches you is clean, sustainable and organic.
SI: Where do you see the spa industry heading?
BA: I see mental and spiritual wellness rising as well as clean and sustainable beauty and skin care rising.
SI: What do you think is most important to running a successful spa?
BA: For me, the most important thing is that my team is happy and feels valued, because the spa industry is about service. If my staff is not happy and doesn't have good energy, that will transfer onto the clients, and the clients will leave with that energy. We've talked about meditating as a team pre-shift to get our staff centered before starting their day in the spa.
SI: What do you enjoy most about managing a spa?
BA: I love seeing the guests' reactions, and seeing the guests leave in a better place than when they came in. This makes us feel worthy and fulfilled now because we made someone else feel beautiful.
BA: Our Zen Studio takes the biggest piece of that. We have yoga mats that have the moon and its different phases on it. We will also be doing New Moon Retreats, where the client books the spa for the entire day on the new moon. There will be creative services throughout the day that tie into whatever astrological sign is in the new moon. We also thought about doing astrology subscription boxes that would contain products connected to the new moon.
SI: How did you come up with the mantras and rituals at the beginning of the services?
BA: For the massage treatments, this mantra is different for everyone. The therapist will read your energy when they greet you, and whatever mantra speaks to them for you, they will say to you. For the facials though, specifically the 1,000 Rose Facial, that was actually created by Kypress.