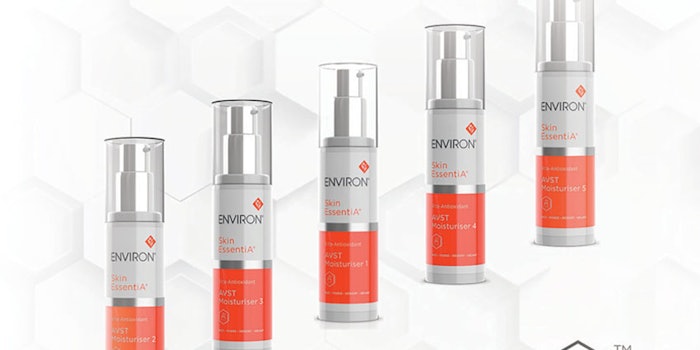 If I have learned anything while looking back through the history of the spa industry for Skin Inc.'s 30th anniversary, it is that this is an industry that thrives on discovery and progression. While he had never planned to become part of the industry, it was this concept of progression that got Des Fernandes, MB.BCh., founder of Environ Skin Care, to enter the spa and skin care world. His drive to find products with stronger sources of vitamin A, led him to setting up his own laboratory to treat his private patients. Skin Inc. got to sit down with Fernandes to learn more about why vitamin A was so important to him, why he chooses not to follow trends and how he became a self-taught founder of his own company.
Des Fernandes (DF): I am a plastic, esthetic and reconstructive surgeon, and I did not intend to enter the cosmetic industry ever. My research into the prevention of melanoma led me to understand the importance of vitamin A to normalize the skin and prevent the development of skin cancer. In fact, studies even showed that it helped prevent photoaging. I searched for products containing higher doses of vitamin A and even wrote to two well-known companies to suggest they make high-level vitamin A cosmetics. One answered "No thank you," while the other did not respond. So, I decided to set up a laboratory to treat my own private patients with vitamin A cosmetics. In the very beginning, I made products in my kitchen, but stability was a a major issue. Eventually, I found an analytical chemist who would work with me in a laboratory that I equipped with better machines.
SI:What is one of your most memorable moments in the industry?
DF: I think there are a number of memorable moments, but being voted by Aesthetic Everything as the Top Medical Skin Care for a second time running was the most. This vindicated all the negative comments I had endured from my plastic surgery colleagues who did not believe in my ideas. Of course, an award like that is the result of immense teamwork here at Environ. I only dream.
SI: What made you decide to start Environ Skin Care?
DF: As an esthetic surgeon, one realizes that photoaging is extremely detrimental to the results of cosmetic surgery. I had to find a way to rejuvenate skin so that my surgery could be more convincing. Peeling and lasers do not in themselves rejuvenate skin. Only vitamin A was available, and even today, it remains the only ingredient that normalizes skin by controlling growth, differentiation and maturation of skin cells to rejuvenate skin by changing the paradigm of enzymes and growth factors.
SI: What has recently been inspiring you in the spa and skin care industry?
DF: I became fascinated with skin needling or collagen induction therapy (CIT) in 1994, and I have researched it continuously to find molecules that work together with CIT to give the most effective, profound rejuvenation of skin. I can't reveal my current research, but my last project showed the enormous value of selected peptides.
SI: Who are some of your biggest mentors?
DF: I think my biggest mentor is Pam Ellwood, with whom I research and develop new products; otherwise, I have no mentors in the cosmetic industry. I learned all by myself in the beginning by reading books like John Knowlton's textbook.
SI: What is the most valuable lesson that you learned?
DF: Persistence and believing in science and physiology is key.
DF: It would be changing the lives of several people who used to have skin cancers removed about three times a year. Now, those same people have beautiful and healthy skin. Vitamin A is absolutely magical for them.
SI: What do you like most about being a part of the spa industry?
DF: I like sharing knowledge and discoveries and meeting the teachers and skin care therapists around the world who help so many other people to enjoy beautiful skin for a lifetime.
SI: What trends have you been seeing come up in the industry?
DF: I don't follow trends in the industry. I think people get waylaid by trends. I consider the current CBD trend as the possible "Dot-Com" delusion, and I think the probiotic story takes people away from the essentials of healthy skin.
SI: What do you enjoy most about being the founder of Environ?
DF: I enjoy seeing the results around the world of beautiful skin. The intermeshing talents of my sister Val Carstens are what translated my dream for skin into a business that could offer people around the world beautiful skin for a lifetime.
SI: Where do you see the future of the spa industry heading?
DF: I don't know, and I mistrust predictions. I know where I want to research, and it is certainly divergent from the direction of the spa industry.
SI: What was one of your biggest challenges, and how did you overcome it?
DF: I think the challenge to make an effective topical alternative to botulinum toxin injections was one my most difficult challenges. This became possible because we managed an even greater challenge to enhance absorption through the skin. I am talking about cosmetic needling of the stratum corneum and the use of combined pulsed iontophoresis and low frequency sonophoresis. I like to boast that I can get anything I want to be absorbed into skin. These facilitated effects that are quite unique in the industry, and we have over 20 years of experience.
SI: What advice would you give someone starting in the industry?
DF: I believe it is important to understand the physiology of the skin. That will never change, but it will, of course, have individual variances.
SI: What do you like to do in your free time?
DF: I like to play classical piano music, read history and scientific studies, worry about the global climate scam and travel. I also manage to spend some time relaxing on the 1,200 hectares in the quasi-desert of South Africa where we farm fresh, unpolluted air and tranquility.