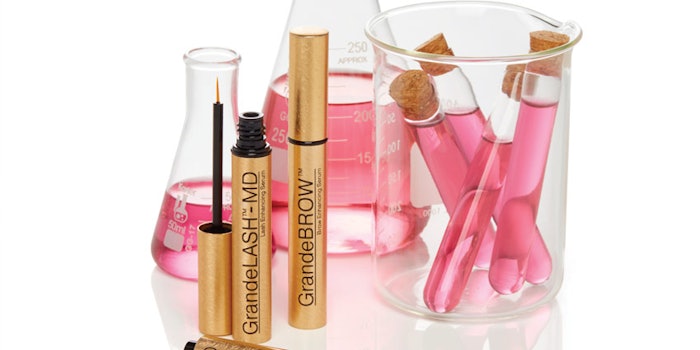 Long and lush eyelashes are in, with many clients seeking out ways to make their lashes look longer and thicker. Eyelash extensions are too costly and time consuming for some, leading them to prefer to enhance their natural lashes. After experiencing lash loss post-pregnancy Alicia Grande, CEO and founder Grande Cosmetics, decided to get into the lash enhancement game, and she hasn't looked back since. Skin Inc. sat down with Grande to learn more about how a radio show motivated her to start Grande Cosmetics, how her first trade show turned out to be her most memorable moment in the industry and how she sees success for the future of the beauty industry.
Alicia Grande (AG): My mother has always worked as a brand ambassador for cosmetic brands, so I have been fascinated by the industry from a very young age. It wasn't until I was given the opportunity to host a radio show focused on wellness and beauty that I got my first start in the industry.
SI: What is one of your most memorable moments?
AG: Back when Grande Cosmetics was just getting its start, I invested $1,500 on my very first booth set-up at a New York City trade show. It was a chaotically busy event, as they always are, with only my sister and I tending to the crowd. By the afternoon, I had completely sold out of my product, making $8,000 in return. It was at that moment that I knew I had the recipe for success.
SI: What made you decide to start Grande Cosmetics?
AG: As a radio show host, I spent my time interviewing top doctors and research analysts in the field. I was introduced to a lash-enhancing formula that was said to give me lush, long-looking lashes.
At the time, my lashes were looking less than perfect after going through hormonal changes during pregnancy. Not expecting much, I gave the formula a try and the results were incomparable to any mascara or false lash I had tried. I couldn't believe how confident having my own beautiful, thick natural lashes made me. I knew I needed to share this lash secret with the rest of the world. That is how Grande Cosmetics and its hero product, GrandeLASH-MD Lash Enhancing Serum, were born.
AG: Now that we're in the digital age, beauty enthusiasts are savvier than ever. It's easy for them to do their homework about products and compare what's out there, and they will go those extra steps to ensure they are educated and well-informed.
SI: Who are some of your biggest mentors?
AG: I am deeply inspired by Elizabeth Arden and the legacy she has built around her brand.
SI: What is one of your biggest accomplishments?
AG: I am honored to have the ability to support initiatives such as T.E.A.L., Susan G. Komen and Gabrielle's Angel Foundation. Not only do they contribute to groundbreaking work, but the people who run those foundations truly care about making a lasting impact to improve other people's lives.
SI: What do you enjoy most about the spa and beauty industry?
AG: Everyone I've encountered in the salon and spa industry is passionate about what they do. They have integrity about what they recommend to their clients and test everything on themselves to ensure they stand behind those products as the best of the best. Being around these types of people energizes and inspires me to create the most transformative products on the market.
SI: What do you enjoy most about founding Grande Cosmetics?
AG: I have always loved working in this industry. It's humbling to be able to do what I'm passionate about on a daily basis and truly change lives with my beauty solutions.
AG: I think it will remain as strong as ever. In this busy age of information overload, we all need time to reset and recharge ourselves. Millennials understand that better than anyone else. They grew up with technology in their lives, and wellness is held to a priority just as much as anything else, so I don't see the industry slowing down any time soon!
SI: What was one of your biggest challenges and how did you overcome it?
AG: I had to invest all of my savings into this business to create it, so funding was a challenge at times, especially when it came to meeting vendor minimum ordering quantities. I lived very humbly while getting my business underway. I made sure I made back every dollar I spent and remained very frugal. I knew I needed to grow the business on a lean level and put money back into the business as it grew. I understood it took time to see a positive cash flow.
SI: What advice would you give someone just starting in the industry?
AG: If you are planning on diving into the cosmetics industry, be sure you're standing behind products that produce real results and provide the benefits that they are marketed to promise. Be careful how you spend your money and utilize social media; it's the most powerful free tool you can work with.
SI: What do you like to do in your free time?
AG: Besides being an absolute spa junkie (I just got back from an amazing hydrafacial treatment), I love to workout at Orange Theory, hike with my dogs and enjoy a relaxing glass of wine with my husband.