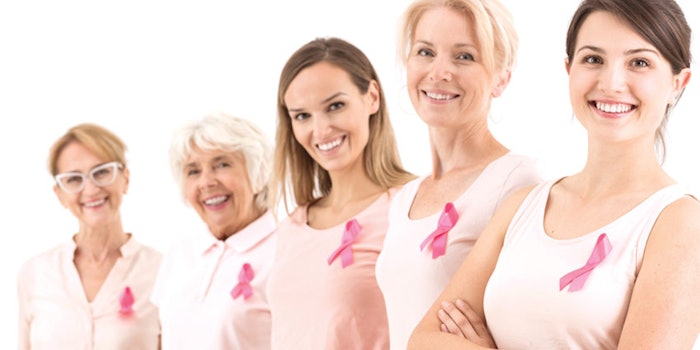 Imagine hearing those three words no one ever wants to hear, "You have cancer." There is absolutely nothing you can do to prepare for something that just shakes you to your soul. Cancer had touched so many people in my life, but I never thought it would touch me.
My Diagnosis
I was in my 40s, active and doing what I loved. I had just gone solo working as an esthetician, a job I truly looked forward to every day. That was all about to change, and that scared me.
I was diagnosed on September 19, 2017, the day that forever changed me. I came in for a routine mammogram, and it had been four years since my last mammogram. This time, I was asked back. During that second visit, I was told I had stage three breast cancer that had also spread to some lymph nodes. My husband, who has been my rock, hugged me while I cried uncontrollably.
At the time, there were so many things to consider. First was my 14-year-old son, who I adored. Second, I remembered my business. I had really just started building my own business and loved being an esthetician. This career was my way of helping others and touching so many lives. That day, everything in my life changed with three words–my whole world went crashing down in one day.
The Appearance Aftermath
After working in this field for over 25 years and doing modeling before that, I got used to always leaving the house looking my best. I made sure my hair and makeup were always perfect, even if it took me hours to get myself ready. Looks were something I took pride in, and I was lucky enough to have good genes in that department. Our appearance as practitioners has a huge impact on how clients and coworkers perceive us.
In the past, I felt sorry for the women and men who were undergoing chemotherapy. After my diagnosis, I realized I was going to look like that, and that killed me even more.
After my diagnosis, I noticed the looks of strangers on a daily basis–in an elevator, at a restaurant or out shopping. My one-inch-long, pink hair even garnered some eye rolls. I may be different on the outside, but I still feel like that girl with the pretty long hair on the inside. After I took a few weeks to try and accept everything, I realized I don't have to accept this.
A Long Walk
I know many women call their battle with breast cancer a journey. To me, journey is too nice of a word. It's not a journey but a long walk in a back alley, and you're holding one of those cardboard signs that says, "HELP." This is a fight you have to fight alone. Yes, your significant others or best friends are beside you, but you have to give this everything you've got to win. No matter how hard it gets, or how hard you want to give up, you have to give it absolutely everything and think of your kids, family, career or whatever drives you to know that you're not finished yet. You have so much more life to live. Be strong, be fierce and don't lose yourself.
An Industry of Love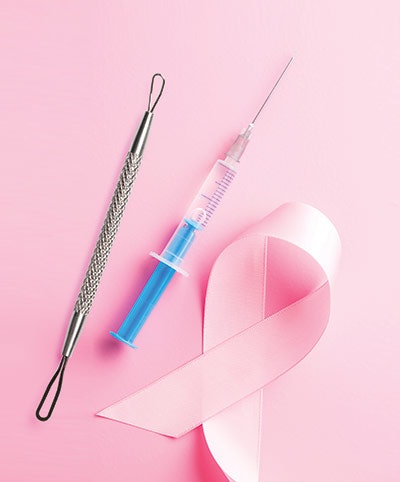 There is no way to wrap my head around the idea that I have a diagnosis that 30% of women won't live through. Every time I tried being normal or doing things I loved, it would pop in my head, "Oh yeah, I have cancer." So, my best coping mechanism was not to think about it, because every time I did think about it, I cried. I was a happy person, and crying every day wasn't an option. I had to get through this upcoming year of chemotherapy, a full mastectomy, reconstruction and radiation.
The day after I was diagnosed, I actually went to work. I had a completely booked day, and I didn't want to let my clients down. I love giving facials; it has always been therapeutic to me. So, I wanted to work to feel normal. I didn't tell anyone I was sick, and I worked a 10-hour day. I gave my clients one more day of love. I wasn't sure if I would ever see any of them again, but I knew I wasn't done in this field yet. I still had so much to give. I had a client tell me before that my facials were life changing. Well, they were life changing TO ME also because giving them gave me life, and now I didn't know if, or when, I would give another.
The beauty industry teaches you many things. In this industry, it's our job to look at someone and in our head think to ourselves, "What do I have in my arsenal that will take away those dark circles, lighten that hyperpigmentation or make my client look five years younger?" I love helping people see things in themselves they didn't see before and bringing out confidence to help make them realize how beautiful they are while bringing their best features to light. We are so much more than just estheticians; we're friends, counselors, chemists, detectives, dietitians, artists and beauty experts. That's what kept my love alive for this industry and the ever-changing roles that we play. I like knowing every day when we go to work that today is different than yesterday.
My Ongoing Battle
I had three months of chemotherapy and a full mastectomy with reconstruction. I was so thankful to find a plastic surgeon to immediately do a reconstruction after my surgery. It's been a long, rough road.
My body has literally been through hell by being on chemotherapy; it kills the fast growing, dividing cancer cells, but it can also kill healthy cells like skin and hair cells and bone marrow. It also compromises your immune system, among other side effects.
Almost a year after I was diagnosed, the hardest part after treatment, for me, was losing my hair, including my eyelashes and eyebrows. My hair was part of my identity, and it took years to get the perfect mix of highlights and lowlights. I am happy to be alive, but I am frightened about returning to my normal life. I can't stop thinking about what client's or employer's first impression will be of a 47-year-old woman with barely any hair. Before cancer, I could work just as fast or faster than a 20 year old. I had confidence, knowledge and a presence that kept clients coming back. Now, I just want to be as good as I was before cancer.
Keep Your Light Bright
My life and career are not over, just moving into a new direction. I'm already accomplishing new goals by focusing my career on oncology esthetics and giving back to the community that helped me when I needed it. Before cancer, I changed the world one person at a time, and now, the world has changed me. Cancer will forever change you, but you can't let it take away your light. I will continue to shine and let my light and love of life burn bright.